Eintracht Braunschweig
1976-1978
COACH:
Branko Zebec
GOALKEEPERS:
Bernd FRANKE
DEFENDERS:
Friedhelm HAEBERMANN
Reiner HOLLMANN
Wolfgang GRZYB
Dieter ZEMBSKI
Franz MERKHOFFER
Hasse BORG
Wolfgang GROBE
Matthias BRUNS
Aleksandar RISTIC
MIDFIELDERS:
Wolfgang DREMMLER
Karl-Heinz HANDSCHUH
Paul BREITNER
FORWARDS:
Danilo Popivoda
Dietmar ERLER
Bernd GERSDORFF
Wolfgang FRANK
Frank HOLZER
Norbert STOLZENBURG
5-2-3 FORMATIONS: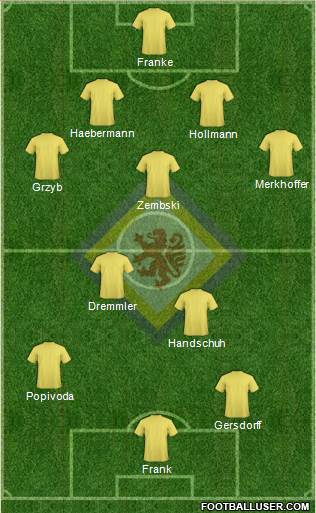 GK

FRANKE


CB

HOLLMANN


CB

HAEBERMANN


CB

ZEMBSKI


RB

GRZYB ©


LB

MERKHOFFER


DMF

DREMMLER


AMF

HANDSCHUH


RWF

POPIVODA


LWF/CF

GERSDORFF


CF

FRANK

HONOURS:
Bundesliga: runner-up (1977)
UEFA Cup: Round of 16 (1978)
INFO:
Braunschweig. Almost every Eintracht fan knows the players of the championship team from 1967, but what memories does the 1976/1977 season evoke? Eintracht Braunschweig could have become German champions for the second time in history - with only one point behind!
Eintracht, promoted in that era by the liqueur manufacturer Günter Mast ("Jägermeister"), causing a sensation on March 24, 1973 with the first shirt sponsor! Trained in the Bundesliga by Branko Zebec - in his sober days one of the best coaches of his era - with national goalkeeper Bernd Franke , the later world champion Wolfgang Dremmler and Bernd Gersdorff in the squad, reinforced with the Yugoslav winger Danilo Popivoda, Eintracht reached 5th in 1976 and qualified for the 1976/77 UEFA Cup.
In 1977, Eintracht was 3rd in the league, also thanks to 24 goals from Wolfgang Frank, and thus reached their best rank since the championship ten years earlier. In the UEFA Cup , the team was eliminated in the 2nd round against Espanyol. In the following year, great success with the new signing of world star Paul Breitner from Real Madrid was expected - however, the renewed decline of unity began. Despite his arrival, it was only enough for 13th place.
The season started hopefully. In the UEFA cup 1st round, the top Soviet team Dynamo Kyiv - trained by Lobanovsky and with Oleg Blokhin, Europe's Footballer of the Year 1975 - were eliminated due to the away goal rule. But from October onwards, victories became the exception, and the UEFA Cup ended in the round of 16 after two defeats against PSV Eindhoven.
Just to show the brilliant coach Zebec who turned the team upside down, here are some quotes from his Braunschweig time:
- "Branko Zebec was extraordinary for the time. He had a tactical and playful vision that was incredible. Without him we would not have been so successful"
- "Branko Zebec didn't talk much. But what he said was true. He was a real psycho wizard and always kept us on fire. In 1974 he initiated a change in the game system at Eintracht Braunschweig. Instead of always playing hand-to-hand with clear assignments, as before, he introduced area coverage, whereby the opponents were handed over. It is common today, then it was revolutionary. His rationale behind this: When we have the ball, the players, with their individual skills, have to be in the best position for them"
- "The other teams were clearly superior in terms of play and technology, but we were successful because we internalized the basic virtues. Eintracht has always stood for running, fighting and biting."