Manchester City
1968-1971
COACH:
Joe Mercer
GOALKEEPERS:
1
Joe CORRIGAN
Harry DOWD
Ken MULHEARN
DEFENDERS:
5
Tommy BOOTH
George HESLOP
2
Tony BOOK (c)
3
Glyn PARDOE
Willie DONACHIE
Arthur MANN
Derek JEFFRIES
MIDFIELDERS:
4
Mike DOYLE
8
Colin BELL
6
Alan OAKES
11
Tony TOWERS
12
Ian BOWYER
FORWARDS:
7
Mike SUMMERBEE
10
Neil YOUNG
9
Francis LEE
Tony COLEMAN
Frank CARRODUS
Stan BOWLES
Fred HILL
4-3-3 FORMATIONS:
Man City Vs Gornik 2:1 - Cup Winners' Cup final (29/04/1970)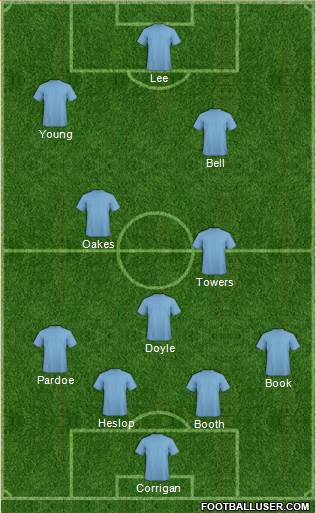 GK

CORRIGAN


CB

BOOTH


CB

HESLOP


RB

BOOK ©


LB

PARDOE


DMF

DOYLE


CMF

OAKES


CMF

TOWERS


RWF/SS

BELL


LWF

YOUNG


CF

LEE
HONOURS:
English First Division: Winner (1968)
FA Charity Shield: Winner (1968)
FA Cup: Winner (1969)
Cup Winners' Cup: Winner (1970)
Football League Cup: Winner (1970)
Cup Winners' Cup: Semi-finalist (1971)
INFO:
https://www.bbc.com/sport/football/52455182
In the summer of 1965, the management team of Joe Mercer and Malcolm Allison was appointed. In the first season under Mercer, City won the Second Division title and made important signings in Mike Summerbee and Colin Bell. Two seasons later, in 1967–68, Manchester City claimed the League Championship for the second time, clinching the title on the final day of the season with a 4–3 win at Newcastle United and beating their close neighbours Manchester United into second place. Further trophies followed, as City won the FA Cup in 1969 before achieving European success by winning the European Cup Winners' Cup in 1970, beating Górnik Zabrze 2–1 in Vienna. City also won the League Cup that season, becoming the second English team to win a European trophy and a domestic trophy in the same season. Oh, and Francis Lee, star striker, celebrated the European triumph by dancing on a piano, wearing only his underpants.
City's 2-1 triumph in Austria against crack Polish side Gornik Zabrze meant they brought home a continental trophy to go with their domestic silverware before the likes of Liverpool (1973 Uefa Cup) and Juventus (1977 Uefa Cup).
On the same evening City played Gornik, the infamous FA Cup final replay between Chelsea and Leeds was screened live by both BBC One and ITV, with 28.5m people watching - still the fifth-biggest audience for any event in British television history.
The Blues were also the last team to win the English League championship with a team consisting entirely of players of English nationality (many of whom were also native Mancunians).