Name: Albert Sigurður Guðmundsson

Nickname: "Hvíta Perlan"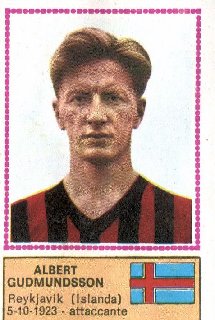 Country:
Iceland
Clubs: Arsenal F.C. (1945-1947), AS Nancy (1947-1948), A.C. Milan (1948-1949), Racing Club de France (1949-1951)
Position: *
SS
,
AMF
,
CF
Side: RF/BS
Age: 22-28 years (05/10/1923)
Height: 180 cm
Weight: 76 kg
Attack:
83
Defence:
39
Balance:
73
Stamina:
77
Top Speed:
82
Acceleration:
80
Response:
77
Agility:
81
Dribble Accuracy:
85
Dribble Speed:
78
Short Pass Accuracy:
84
Short Pass Speed:
77
Long Pass Accuracy:
82
Long Pass Speed:
75
Shot Accuracy:
83
Shot Power:
80
Shot Technique:
81
Free Kick Accuracy:
75
Curling:
77
Header:
70
Jump:
71
Technique:
87
Aggression:
82
Mentality:
73
Keeper Skills:
50
Team Work:
79
Injury Tolerance:
B
Condition:
5
Weak Foot Accuracy:
6
Weak Foot Frequency:
5
Consistency:
5
Growth Type:
StandardCARDS:
P
07 Mazing Run
S
05 1-touch Play
SPECIAL ABILITIES:
Dribbling - 1 touch Pass
Attack / Defence Awareness Card:
Attack Minded
INFO:
Former Icelandic player, one of their first football stars. He played mainly as inside right and was characterized by great technique, elegant moves and good vision. He was also good scorer as well as creator, but physically he was little bit weak and never preferred physical play. In sports career after he went into politics and was a member of parliament for 15 years and held the office of the Minister of Finance and Industry. He ran in the 1980 presidential election but lost to Vigdis Finnbogadottir. In 1944 Albert went to Scotland to study business administration at Skerry's College in Glasgow. He started his football career with the Rangers. After a brief stop there, he went to England where he played several friendly and two league games with Arsenal in October 1946 as an amateur. He was one of Arsenal who were not from Britain, Gerard Keyser had been the first. Albert could not get a work permit in England and went to look for opportunities anywhere else. In a game with Arsenal against Racing Club de Paris, he attracted the attention of the French team would now agree with him. It did not think so Albert wrote a contract with Nancy at the end of 1946. In 1948 Albert wrote a contract with AC Milan. He was injured in the game against Lazio and did not have a good prognosis. Team Physician Inter Milan saw one and would take action on it. AC Milan seemed not at risk and refused and bought Albert himself from his contract and went into action was a success. After he reached full strength again, he returned to France where he played for several teams before he put his boots as a pro in 1954. After returning, he took command of Sports Club team, which won the second department. Albert led Hafnfirðinga in first department in the summer of 1956 the first attempt and was player-coach in the top league summer 1957 and 1958. 1967 was Albert Silfurmerki Football Association for his work in football. He was chairman of the Football Association from 1968 to 1973. When he withdrew from office, he was awarded the Football Gullmerki a long and important work of his football. Albert was also chairman of the sports clubs of Reykjavik in the years 1959 to 1961. Albert was the first Icelandic professional man in football. On 13 February 2010 had revealed a statue of him at the headquarters of the Football Laugardal. The statue is by Helgi Gislason. After he returned from France, started his career as a wholesaler Albert 1956 and sold primarily frönsk kvenföt. He went to the Independence Party and was elected to the City of Reykjavik in 1970, the city council until 1986. In 1974 he was elected to Parliament. Albert became Finance Minister in 1983 and 1985 he went to the Ministry of Industry and was Minister for 1987. 1987 he founded the Independence Party and Civil Party, where he was chairman for 1989. In 1989 he was appointed ambassador to Iceland in France, and held that office until 1993. He died in 1994.