Name: Ernesto Bernardo Tito Cucchiaroni

Nickname: "El Loco"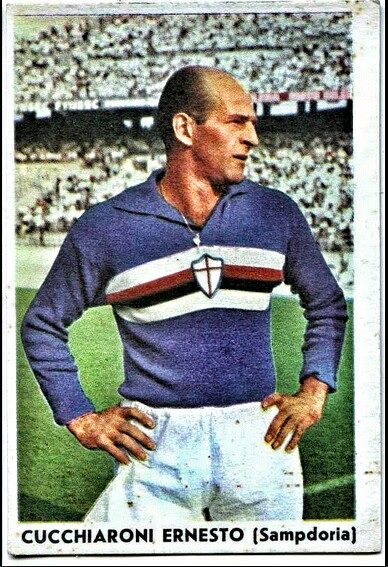 Country:
Argentina
Clubs: A.C. Milan (1956-1958), U.C. Sampdoria (1958-1960)
Position: *
WF
,
SS
Number:
11
Side: LF/LS
Age: 29-33 years (16/11/1927)
Height: 169 cm
Weight: 70 kg
Attack:
83
Defence:
44
Balance:
77
Stamina:
82
Top Speed:
84
Acceleration:
88
Response:
77
Agility:
85
Dribble Accuracy:
90
Dribble Speed:
82
Short Pass Accuracy:
79
Short Pass Speed:
75
Long Pass Accuracy:
84
Long Pass Speed:
78
Shot Accuracy:
80
Shot Power:
89
Shot Technique:
84
Free Kick Accuracy:
82
Curling:
77
Header:
68
Jump:
71
Technique:
87
Aggression:
82
Mentality:
79
Keeper Skills:
50
Team Work:
77
Injury Tolerance:
B
Condition:
6
Weak Foot Accuracy:
7
Weak Foot Frequency:
6
Consistency:
4
Growth Type:
Late LastingCARDS:
P
05 Trickster
P
12 Incisive Run
S
05 1-touch Play
S
06 Outside
S
20 Scooping
SPECIAL ABILITIES:
Dribbling - Tactical Dribble - 1 touch Pass - Outside
Attack / Defence Awareness Card:
Attack Minded
INFO
Ernesto Cucchiaroni was left winger. Tito was dribbling maestro with spectacular moves and goals which drove the Samp fans crazy. He had excellent dribbling and pace, lot of tricks and very strong shot often resulting in fantastic goals from all angles and distances, as well as from the free kicks. Real fighter and tireless player full of sweet rhythmics moves. Purchased by Milan, arrived in Italy from Boca Juniors in 1956. He went to Sampdoria in 1958 to replace Firmani, went to Inter. They told him that it looked like he was not thirty, but fifty, but on the field was another matter. He played for five years with the shirt Sampdoria, delighting the audience, the beauty of Deputies 138 matches crowned by 40 networks and have the satisfaction (along with other "waste" as the great Skoglund, Vincent and Bergamaschi or old guys like Ockwirk) to obtain the Sampdoria's best finish before the historic title: fourth place in the tournament 1960-61. He was dedicated to a famous club Sampdoria Sampierdarena, the closing of which came the current name of the Ultras. Tito was one of the protagonists of the historic 4th place finish from Sampdoria in 1960/61, the best result ever achieved by Sampdoria in the league before the advent of Paul Mantz. with Samp scored 40 goals in 148 games, the most important derby in the Lantern, in fact the first Derby, cucchiaroni scored two goals for the decisive victory that made ​​him jump right into the hearts of fans. after his tragic and untimely death, fans of Samp's the name of the dedicated group of supporters Sampdoria: Ultras Tito Cucchiaroni.