Stats by Lutchi65 with suggestions from Interista93
Name:
Philip Benjamin Neil Frederick Parkes
Nickname: ''
Phil
''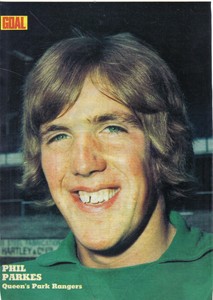 Country:
England
Club:
Queens Park Rangers F.C.
Position: *
GK
Side:
RF/BS
Age:
24-30 years
(08/08/1950)
Height:
192 cm
Weight:
95 kg
Attack:
30
Defence:
86
Balance:
88
Stamina:
64
Top Speed:
68
Acceleration:
67
Response:
88
Agility:
73
Dribble Accuracy:
53
Dribble Speed:
50
Short Pass Accuracy:
54
Short Pass Speed:
58
Long Pass Accuracy:
57
Long Pass Speed:
61
Shot Accuracy:
44
Shot Power:
83
Shot Technique:
44
Free Kick Accuracy:
44
Curling:
46
Header:
45
Jump:
80
Technique:
55
Aggression:
60
Mentality:
80
Goalkeeper Skills:
87
Team Work:
78
Injury Tolerance:
B
Condition/Fitness:
6
Weak Foot Accuracy:
4
Weak Foot Frequency:
4
Consistency:
5
Growth type:
StandardCARDS:
-
SPECIAL ABILITIES:
-
Attack/Defence Awareness Card:
Defence Minded

INFO:
Beginning his football career at Walsall, turning professional in 1968, he made over 50 appearances in the Black Country before moving to London, signing for Queens Park Rangers for £15,000 in June 1970. His QPR debut was on Saturday 22 August 1970 in a 3–1 defeat at home to Leicester City.
Parkes was part of the QPR team that reached the last eight of the FA Cup in 1974 and were League runners-up to Liverpool in 1976. His club career at QPR spanned 344 league appearances (406 in all competitions). He gained his only England cap during this period, against Portugal in 1974.
Parkes was sold to West Ham United in 1979 for £565,000, a world record for a goalkeeper at the time. It is reported that Sexton, who by then was manager of Manchester United, put in six bids for the player but saw them all turned down. It was only the half-million-pound bid from West Ham United that QPR chairman Jim Gregory could not resist. Upon John Lyall's signing of Parkes it was thought that he was a huge risk due to the severity of the condition of his knees but his signing was to pay off as Parkes was to remain first choice keeper for the next ten years. Despite this longevity, however, he only ever gained one piece of silverware, when West Ham beat Arsenal 1–0 to win the 1980 FA Cup Final.
Although Parkes collected just one major trophy during his long playing career, his time at Upton Park saw him come close to picking up honours more than once later on in the 1980s. He was on the losing side in the 1981 Football League Cup Final against Liverpool, the same year that he collected a Second Division title medal as the Hammers returned to the First Division after three years away. In 1983–84, the Hammers were in the title race mid season but fell away to finish ninth. They re-emerged as title challengers in 1985–86 and were in the hunt for the title right up to the end of April, finally finishing third. He also helped them reach the League Cup semi-finals in 1988–89, but it was a disappointing season for the Hammers who were then relegated to the Second Division.