By Interista93
Name:
Fabrizio Lorieri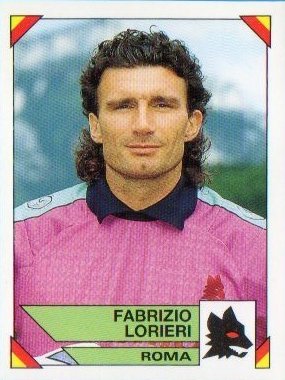 Country:
Italy
Club:
Ascoli Calcio
Position:
GK
Side:
RF/BS
Age:
25-29 years
(11/02/1964)
Height:
186 cm
Weight:
78 kg
Attack:
30
Defence:
84
Balance:
83
Stamina:
68
Top Speed:
70
Acceleration:
69
Response:
85
Agility:
80
Dribble Accuracy:
53
Dribble Speed:
52
Short Pass Accuracy:
52
Short Pass Speed:
55
Long Pass Accuracy:
55
Long Pass Speed:
60
Shot Accuracy:
45
Shot Power:
78
Shot Technique:
45
Free Kick Accuracy:
45
Curling:
45
Header:
48
Jump:
83
Technique:
54
Aggression:
66
Mentality:
82
Goalkeeper Skills:
86
Team Work:
74
Injury Tolerance:
A
Condition:
8
Weak Foot Accuracy:
3
Weak Foot Frequency:
3
Consistency:
6
Growth type:
Standard/LastingCARDS:SPECIAL ABILITIES:
1-on-1 Stopper
Attack/Defence Awareness Card:
Defence Minded
INFO:
Fabrizio Lorieri is one of those goalkeepers who may have become great but he could have done more during his career. Lorieri played for many team including Inter (when he was young) and Roma. However he is remembered for his seasons with Ascoli and Lecce. He's even been the first goalkeeper to have the cover of the Panini sticker album all for him in 1992-93 despite playing in Serie B and despite the other great goalkeepers who were playing in Italy. He was described as a goalkeeper with physique, technique, agility, good ability in 1-on-1 situations, quickness between the goalposts, a strong character. Sometimes he exceeded screaming towards his defenders who were called to order with too much vehemence.
In 1989 he joined Ascoli in Serie B being also the team captain. He became a symbol for the team and reached the promotion in Serie A in 1990-91. The 10th May 1992 Ascoli was already relegated and in the last match against Roma Lorieri blocked every opponents' shot making the
giallorossi
furious. Roma eventually won the match 1-0 scoring a fortunate goal at 89'. Ascoli and Lorieri lost but Italy discovered a goalkeeper who was too extraordinary to play for a mediocre team. In 1993 Roma decided to buy Lorieri but he never had enough space between 1993 and 1995. At the end of the second season with Roma Lorieri joined Lecce in 1995 playing in Serie C1. In two seasons Lorieri helped the team reaching the Serie A. Lorieri remained in Lecce until 1999. He retired in 2004 after playing for a few other team between Serie B and C2.