Created by Godoy2210
Atlético
Nacional
All
Stars
GOALKEEPERS:
René HIGUITA
Raúl NAVARRO
DEFENDERS:
Andrés ESCOBAR
Luis HERRERA
Diego León OSORIO
Francisco MATURANA
Luis Carlos PEREA
Gerardo MONCADA
MIDFIELDERS:
Alexis GÁRCIA
Humberto ÁLVAREZ
Leonel ÁLVAREZ
César CUETO
Hernán Darío HERRERA
Jorge Hugo FERNÁNDEZ
Sergio SANTÍN
Tito Manuel GÓMEZ
ATTACKERS:
Victor ARISTIZÁBAL
Faustino ASPRILLA
Albeiro USURIAGA
John Jairo TRELLEZ
Osvaldo Marcial PALAVECINO
Víctor CAMPAZ
**********************************************
RESERVES:
GOALKEEPERS:
Manuel Lorenzo CARRABS

Miguel CALERO

David OSPINA




DEFENDERS:




Gilberto SALGADO

Miguel Ángel LÓPEZ

Oscar CALICS
Julio Edgar GAVIRIA

Teófilo CAMPAZ

José Luis BROWN
Iván Ramiro CÓRDOBA
Jorge ORTIZ

León Fernando VILLA

Jorge PORRAS

Victor MARULANDA




MIDFIELDERS:




Gabriel Jaime GÓMEZ

Mauricio SERNA
Eduardo RETAT

Abel ÁLVAREZ

Luis Alfonso FAJARDO

Norberto PELUFFO

Pedro SARMIENTO

Jorge OLMEDO

Óscar ROSSI

Bernardo VALENCIA

Miguel ZAZZINI

Jaime ARANGO

Giovanni MORENO
Hernán GAVIRIA

Neider MORANTES




ATTACKERS:




Iván Darío CASTAÑEDA

Gustavo SANTA

Guillermo LA ROSA

Jorge GONZÁLEZ

Eduardo Emilio VILARETE

Hugo Horacio LÓNDERO

Juan Pablo ÁNGEL

Aparecido Donizetti de Olivera SAPUCA

Juan Jairo GALEANO

Alex COMAS
Best Eleven: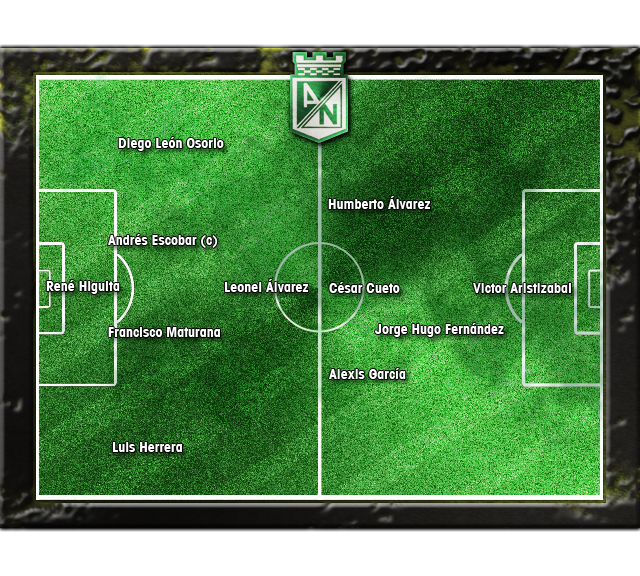 More images and info:
Corporación Deportiva Atlético Nacional is a Colombian football team based in Medellín. They play their home games at the Estadio Atanasio Girardot stadium which also serves as home to Deportivo Independiente Medellín. It is also known for being not only one of the most important clubs in Colombia (with ten championships won), but also for being one of the most important football clubs in South America, wining the 1989 Libertadores cup, and marking an era of South American football in the 90's decade.*
The club Unión, now known as Club Atlético Nacional, was founded in 1947 by Luis Alberto Villegas Lopera, Jorge Osorio, Alberto Eastman, Jaime Restrepo, Gilberto Molina, Raúl Zapata Lotero, Jorge Gómez Jaramillo, Arturo Torres Posada and Julio Ortiz. Atlético Nacional was the first Colombian team to win the Copa Libertadores de América, they did so in 1989, and were also runner-ups in 1995. The winning of this cup was done in a special manner since all of the team's players were Colombian and thus Atlético Nacional earned the nickname of the "Puros Criollos" (Only Colombian-born players).*
The team has been at the top of the Fútbol Profesional Colombiano ten times, winning in 1954, 1973, 1976, 1981, 1991, 1994, 1999 (when there was only one champion per year), 2005, 2007-I and 2007-II. For fifteen years, from 1989 to 2004, the team was regarded as the only team to win the Copa Libertadores (until Once Caldas won over Boca Juniors), and until 1999, the only Colombian team to win any major international tournament (América de Cali, winning over Independiente Santa Fe the Copa Merconorte). The team is also the only Colombian club to reach the final stage of the Copa Sudamericana, losing against Argentina's San Lorenzo in 2002.*
Atlético Nacional was home to international stars like Faustino Asprilla, René Higuita, Víctor Aristizábal, Andrés Escobar, Iván Córdoba, Leonel Álvarez, Alexis García, Albeiro Usuriaga, Aquivaldo Mosquera, Mauricio Serna, Juan Pablo Ángel and others. The best foreigners: Cesar Cueto and Oscar Rossi. The team is currently owned by Carlos Ardila Lülle of Organización Ardila Lülle and Jaime Restrepo. Jaime is the only one remaining from the founders (see above), the others sold their accions to Carlos Ardila. The team wears green and white vertically striped jerseys. Nacional's mascot is Nacho, a tiger with green and white striped shirt as it is the team's uniform. Nacho was created in 1998.*
The all "criollos", which refers to The all Colombians, names a period between 1987 to 1999, in where the philosophy of the team was to play only with Colombian players or preferably footballers from Medellín. In this time period Nacional fans remember the best club times, when the team play was compared to pure magic or art. It was a slow, pass by pass motioned game, but also a game designed to entertain the fans and bring the attention to the ball itself and how to treat it as a philosophy of play. In other means, it was a concept that marked an era in Colombian football and launched the golden era of the national team too.*
From this era, Nacional started to be the base of the national Colombian team to the qualification and world cups of 1990, 1994 and 1998, being the base team with numerous players (whom like Faustino Asprilla or René Higuita later went globaly famous) and also with managers like Francisco Maturana and Hernan Dario Gomez, who made a guarantee that Colombian national team game would be the same as the trademarked Atlético Nacional's way to play.*
*Wikipedia.
Honours
:
Domestic Tournaments:
*Colombian League: 11 (1954, 1973, 1976, 1981, 1991, 1994, 1999, 2005-I, 2007-I, 2007-II, 2011-I)
*Colombian League Runner up: 10 (1955, 1965, 1971, 1974, 1988, 1990, 1992, 2002-I, 2004-I, 2004-II)
International Tournaments:
*Copa Libertadores: 2 (1989, 2016) Runner Up 1 (1995)
*Copa Merconorte: 2 (1998, 2000)
*Copa Sudamericana: Runner Up (2002, 2016)
*Copa Interamericana: 2 (1990, 1995)
*Recopa Sudamericana: Runner Up (1989)
*Intercontinental Cup: Runner Up: (1989)
*Club world cup: Third place(2016).