Name: Manfred Burgsmüller

Nickname: "Manni"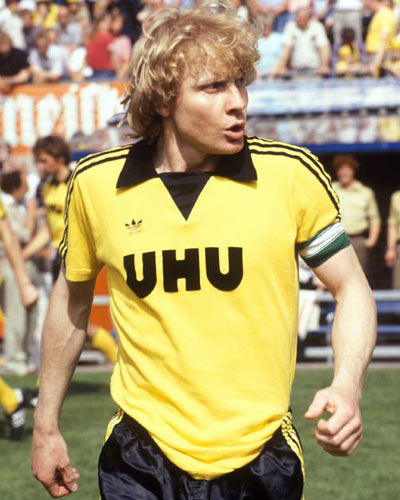 Country:
Germany
Club: Borussia Dortmund
Position: *
SS
,
CF
,
AMF
Side: RF/BS
Age: 27-34 years (22/12/1949)
Height: 177 cm
Weight: 70 kg
Attack:
91
Defence: 46
Balance:
78
Stamina:
83
Top Speed:
84
Acceleration:
83
Response:
85
Agility:
82
Dribble Accuracy:
85
Dribble Speed:
81
Short Pass Accuracy:
82
Short Pass Speed:
75
Long Pass Accuracy:
81
Long Pass Speed:
77
Shot Accuracy:
90
Shot Power:
83
Shot Technique:
87
Free Kick Accuracy: 69
Curling:
77
Header:
84
Jump:
81
Technique:
84
Aggression:
87
Mentality:
81
Keeper Skills: 50
Team Work:
81
Injury Tolerance:
A
Condition/Fitness:
8
Weak Foot Accuracy:
6
Weak Foot Frequency:
6
Growth Type: Late Lasting
CARDS:
P17:
Free Roaming
S01:
Reaction
S05:
1-touch Play
SPECIAL ABILITIES:
Positioning - Scoring - Reaction - 1 touch Pass - Dribbling
Attack / Defence Awareness Card: Attack Minded
INFO:
Legendary German "oldtimer" Burgsmüller was one of the best scorers in history of Bundesliga, despite playing for a large part of career in midfield. He was very good in moving in the open space and score a numerous goals with large variety of shots and headers. Manni also had good technique and ball control, so played in midfield for Borussia which didn't prevent him to become the club's record goalscorer. With 213 goals he is number four of the eternal Bundesliga scoring charts. The 135 Bundesliga goals for Borussia Dortmund mean club record. Yet he was never in the Bundesliga top scorer, but he was placed in 1974 and over again among the top ten scorers in the league and twice in 2nd place: 1980/81 and 1981/82 with 27 and 22 goals. In 1978 national coach Helmut Schön did not take him to the World Cup in Argentina because he thought the nearly 29-year-old is too old. Manni in 1984 moved from 1 FC Nürnberg to Rot-Weiss Oberhausen in the 2nd Bundesliga and it seemed the Bundesliga career of the then 34-year-old to be terminated . The following year he was top scorer with 29 goals in the 2nd Bundesliga. Otto Rehhagel took at the end of 1985 then the nearly 36-year-old to the Bundesliga to Werder Bremen. With Werder Burgmüller got 1988 at high football age of 39 his first title and became German champion. In 1989 and 1990 with Werder Bremen Burgmüller reached the finals of the DFB Cup. In the national team Burgmüller played three times from 1977 to 1978. After his active career as a football player he was from 1996 to 2002 at Rhein Fire kicker and thus the age of 52 the oldest active professional football player in the world. Obtained with two titles and several runner-up he can definitely keep up with his "successor" as a double-athletes, Axel Kruse. Most recently, he was intended to build at FC Schalke 04 Football team for the NFL Europe, to exploit the Arena auf Schalke more efficiently. These plans were discarded after the dissolution of NFL Europe. In the 2004/2005 season, he tried in vain as manager, save the SSV Hacheney (Dortmund) to avoid relegation. This was marketed by the documentary program "Heroes of the circle class, " on the TV channel Kabel Eins. Burgmüller since 2004 has been a partner in a sports clothing chain.