Name: Gusztáv Sebes | Gusztáv Scharenpeck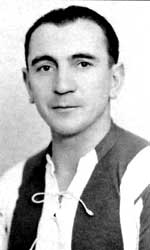 Country:
Hungary
Club: MTK Budapest
Position: *
DMF
,
CMF
,
CB
Side: RF/BS
Age: 23-30 years (21/06/1906)
Height: * 170 cm
Weight: * 71 kg
Attack:
69
Defence:
80
Balance:
81
Stamina:
87
Top Speed:
84
Acceleration:
81
Response:
81
Agility:
79
Dribble Accuracy:
78
Dribble Speed:
76
Short Pass Accuracy:
79
Short Pass Speed:
75
Long Pass Accuracy:
77
Long Pass Speed:
76
Shot Accuracy:
67
Shot Power:
80
Shot Technique:
64
Free Kick Accuracy:
63
Curling:
64
Header:
85
Jump:
87
Technique:
77
Aggression:
65
Mentality:
82
Goalkeeper Skills:
50
Team Work:
80
Injury Tolerance:
B
Condition/Fitness:
6
Weak Foot Accuracy:
5
Weak Foot frequency:
5
Consistency:
6
Growht Type:
Standard Lasting
CARDS:
P14
: Enforcer
S07
: Man Marking
S09
: Covering
SPECIAL ABILITIES:
Marking - Covering
Attack/Defence Awareness Card:
Balanced
INFO:
Gusztáv Sebes (born Gusztáv Scharenpeck in Budapest, 22 January 1906; died in Budapest, 30 January 1986) was a Hungarian footballer and coach. With the title of Deputy Minister of Sport, he coached the Hungarian team known as the Mighty Magyars in the 1950s. Among the players in the team were Ferenc Puskás, Zoltán Czibor, Sándor Kocsis, József Bozsik, and Nándor Hidegkuti. Together with Béla Guttmann and Márton Bukovi, he formed a triumvirate of radical Hungarian coaches who pioneered the 4-2-4 formation. Extremely hard-working player, he also can played in all midfielder position including in the defence. Technically well prepared and firmly mounted, and the ball cleverly positioned correctly forwarded. Speed ​​and head play was impeccable. Top of neutralizing the opponent's most dangerous striker who, through rigorous, strong and tireless man by cutting. His play and sportsmanship at all times was exemplary. Sebes advocated what he referred to as socialist football, an early version of Total Football, with every player pulling equal weight and able to play in all positions. Under Sebes, Hungary went unbeaten for 32 consecutive matches, a record that was bettered by Brazil and Spain by 3 games. During this run, Hungary became Olympic Champions in 1952 and Central European Champions in 1953. They also twice defeated England, 6-3 in 1953 and 7-1 in 1954, and finished as runners-up in the 1954 FIFA World Cup. Defeat in the final marked the beginning of the end for Sebes. Following this defeat, Hungary embarked on an 18-game unbeaten run that came to an end on 19 February 1956, when they lost 3-1 to Turkey. Despite the winning streak, Sebes was sacked after a 5-4 defeat against Belgium on 3 June 1956. He remained active in football throughout his life, working as an administrator and holding coaching positions at Újpesti Dózsa SC, Budapest Honvéd SE, and Diósgyőri VTK.