Name:
PEDRO Alexandre Santos BARBOSA
Nickname: "Portuguese Maradona", "Football Poet"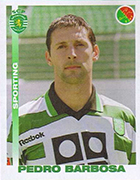 Country:
Portugal
Club:
Sport
ing CP
Position: *
AMF

;

SS
;
SM
;
WF
Side:
RF/BS
Age:
28-32 (9/8/1970)
Height:
182 cm
Weight:
80 kg
Attack:
83
Defence:
48
Balance:
75
Stamina:
75
Top Speed:
73
Acceleration:
75
Response:
80
Agility:
86
Dribble Accuracy:
94
Dribble Speed:
84
Short Pass Accuracy:
90
Short Pass Speed:
83
Long Pass Accuracy:
86
Long Pass Speed:
85
Shot Accuracy:
81
Shot Power:
87
Shot Technique:
88
Free Kick Accuracy:
76
Curling:
81
Header:
74
Jump:
75
Technique:
92
Aggression:
85
Mentality:
69
Goalkeeper Skills:
50
Team Work:
80
Injury Tolerance:
B
Condition/Fitness:
5
Weak Foot Accuracy:
7
Weak Foot Frequency:
6
Consistency:
5
Growth type:
StandardAttack/Defence Awareness Card
: Attack-Minded
CARDS
:
S01
- 1-Touch Play
S02
- Outside Curve
S06
- Long Ranger Drive
S08
- Turning Skills
S18
- Heel Flick
S22
- Sombrero
P01
- Classic N°10
P03
- Trickster
P05
- Mazing Run
P09
- Incisive Run
P10
- Long Ranger
P14
- Free Roaming
SPECIAL ABILITIES
: Dribbling - Tactical Dribbling - Passing - 1-Touch Pass - Middle Shooting - Outside
INFO
Pedro Barbosa, a Sporting legend and one of the most passionate players that Portugal have ever seen. The midfielder starts playing in FC Porto's youth team but has been rejected by Quinito, the same coach who said, years later, that Barbosa would be the only one who would be paid by him to play in his homeyard. He continued his career in the small Freamunde. Sooner, Vitória de Guimarães showed interest in his acquision. Barbosa showed that playing in the Berço stills very little to his capacity. In 1995, Sporting bought his pass and for many years, Alvalade could see a majestic player under its belt.
His undeniable talent narrowly did not lead him to a career in bigger international flights, sinning only by the irregularity of his brilliant performances.
Barbosa won two national championships (1999/2000 and 2001/2002), one Portuguese Cup (2001/2002) and two Super Cups Cândido de Oliveira (1999/2000 and 2001/2002), having made a decisive contribution to the astonishing European journey in 2005 which would culminate in a UEFA Cup final defeat against CSKA Moscow when the final game was played at the Alvalade XXI stadium on 18 May 2005. He left the club at the end of the 2004/05 season, criticizing the technical and manager that he then took. He left his career as a professional soccer player on August 11, 2005, five days after completing his 35th birthday, after 21 years of practicing as a professional sportsman, leaving all football lovers to miss his class.
As a player, Barbosa had an unparalleled talent and was often considered a genius. Owner of an enviable technique and vision, was admired by fans, coaches and other players, only criticized by his lack of speed, which earned him the nickname of "technical pastry". In one of his best appearances against Israel's Maccabi Haifa in the UEFA Cup on 14 September 1995, he hat-tricked Sporting's 4-0 win.
He is known for his strong personality, in which he emphasizes leadership ability, character, convictions and strong ethical sense. Throughout his career, and as captain of Sporting Clube de Portugal, these virtues jumped in sight. During his sad and unjust departure from the club, with contested José Peseiro at the helm of the team, these once again stood out immaculate.
Pedro Barbosa was international for 22 times scoring 5 goals, some of with beautiful effect. He made his debut on 11 November 1992 in Portugal-Bulgaria (2-1). He participated in Euro 96, despite his poor use. In July of 2002, after a disappointing participation in the World Cup in Korea and Japan, where despite being a national champion and winner of the Portuguese Cup, he was not used in any of the 3 matches played by António Oliveira, and later of this, he resigned to participate in the works of the Portuguese national team.
VIDEOS