Name: Thomas Hörster
Nickname: "Krake"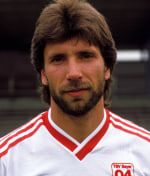 Country:
Germany
Club: Bayer 04 Leverkusen
Position: *
CB
Side: RF/BS
Age: 23-31 years (27/11/1956)
Height: 185 cm
Weight: 77 kg
Attack: 65
Defence:
88
Balance:
79
Stamina:
81
Top Speed:
81
Acceleration:
84
Response:
76
Agility: 63
Dribble Accuracy: 67
Dribble Speed: 73
Short Pass Accuracy:
80
Short Pass Speed:
78
Long Pass Accuracy:
76
Long Pass Speed: 74
Shot Accuracy: 61
Shot Power:
82
Shot Technique: 58
Free Kick Accuracy: 56
Curling: 69
Header:
86
Jump:
79
Technique: 74
Aggression: 62
Mentality:
84
Goalkeeper Skills: 50
Team Work:
80
Injury Tolerance:
B
Condition:
6
Weak Foot Accuracy: 5
Weak Foot Frequency: 5
Consistency:
7
Growth Type: Standard/Lasting
CARDS:
P
12 - Enforcer
S
07 - Man Marking
SPECIAL ABILITIES: Marking - Sliding
Attack/Defence Awareness Card: Defence Minded
INFO:
Thomas Hörster was a Center-Back, who began his career at Blau-Weiß Holsterhausen. He switched to Schwarz-Weiß Essen during his youth. As an 18-year-old, he made his first league appearence on January 18, 1975 in the two-tier 2nd Bundesliga that had been newly formed just a few months earlier, when he came on as a 78th-minute substitute for teammate Hans-Gerd Florian, who was only about a year older, in a 4-1 defeat at VfL Wolfsburg. Schwarz-Weiß Essen was in a relegation spot at the time. Hörster made a further nine league appearances by the end of the season, including several appearances in the starting eleven, and ultimately contributed to the club's ability to stay in the league. In the two seasons that followed, Hörster established himself in the team and achieved solid mid-table finishes in the league with his club. In 1977, he moved to league rivals Bayer 04 Leverkusen, with whom he achieved promotion to the Bundesliga in 1979. In total, he played 332 times for Bayer Leverkusen in the Bundesliga between 1979 and 1991, scoring 16 goals.
In the fall of 1986, team manager Franz Beckenbauer nominated the midfielder, who had been converted into a defender, to the national team. He played in four games for the DFB-A team, the last in March 1987. Hörster's greatest sporting successes were winning the bronze medal at the 1988 Olympics in Seoul and the UEFA Cup in the same year. However, he did not play in the two finals against Español Barcelona. For winning the bronze medal at the 1988 Olympics, he received "das Silberne Lorbeerblatt" - together with the German Olympic national soccer team.