AFRICA
ALL
STARS
1972
AFRICA ALL STARS 1972:
Standing: Tahar, Hani, Eshun, Gomis, Attouga, Tokoto and Acquah.
Bended: Malik, Shehata, Petit Sory and Pokou.
MANAGERS:
Cheikh KOUYATE and
Anani MATTHIA
GOALKEEPERS:
Sadek Sassi ATTOUGA
Tommy SYLVESTRE
DEFENDERS:
Hassan ALI
John ESHUN
Édouard GNACADJA
Miloud HADEFI
Mustapha HANI
TAHAR Benferhat
MIDFIELDERS:
Maxime CAMARA
Louis GOMIS
Noël MINGA
Jean-Pierre TOKOTO
FORWARDS:
Edward ACQUAH
Jabir MALIK
François M'PELÉ (
*
)
Laurent POKOU
Ibrahima "PETIT" SORY Keita
Hassan SHEHATA
(
*
) M'PELÉ was sent home because of injury.
4-3-3 FORMATION:
Africa Vs Colombia - Taça Independência Preliminary Round - Group 1 (25/06/1972)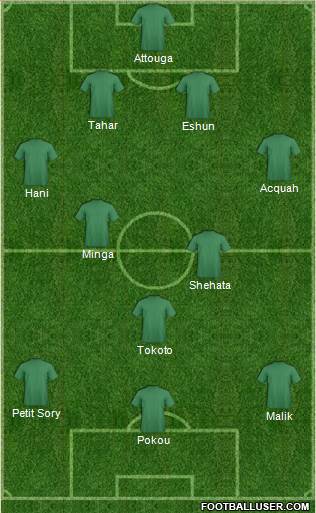 GK
ATTOUGA
CB
TAHAR
CB
ESHUN
RB
HANI
LB
ACQUAH
DMF
MINGA
CMF
SHEHATA
AMF
TOKOTO
RWF
PETIT SORY
LWF
MALIK
CF
POKOU
Substitutions: Gomis for Minga and Camara for Pokou
Captain: Jean-Pierre Tokoto
Short Free Kick: Jean-Pierre Tokoto
Long Free Kick: Hassan Shehata
Left Corner: Jabir Malik
Right Corner: Petit Sory
Penalty: Jean-Pierre Tokoto