Stadium:
Estadio Municipal de Balaídos (29 000)
COACH:
VÍCTOR Fernández
GOALKEEPERS:
Javier MATÉ
Pablo CAVALLERO
DEFENDERS:
ATILANO Vecino
MANOLO
Fernando CÁCERES
José VILLAR
Jorge OTERO
Hugo MALLO
Patxi SALINAS
MIDFIELDERS:
Aleksandr MOSTOVOI
Valeri KARPIN
Haim REVIVO
Juan FERNÁNDEZ
Claude MAKÉLÉLÉ
Santiago CASTRO
VICENTE Álvarez
Gustavo LÓPEZ
FORWARDS:
HERMIDITA
CATANHA
Iago ASPAS
Vladimir GUDELJ
PAHIÑO
Juan SÁNCHEZ
____________________________________________
RESERVES:
GOALKEEPERS:
LILO

José Manuel PINTO

Richard DUTRUEL

Santiago CAÑIZARES
Sergio ÁLVAREZ



DEFENDERS:




Miguel Ángel SALGADO
Juan VELASCO

SYLVINHO
Eduardo BERIZZO

JUANFRAN

Rafael BERGES

Herminio GONZÁLEZ

Gustavo CABRAL

SERGIO Fernández

Goran ĐOROVIĆ

Pablo CONTRERAS

Andreu FONTÁS

Luis OTERO

Gabriel ALONSO



MIDFIELDERS:




Everton GIOVANELLA

Borja OUBIÑA

Juan ARETIO

José HERMIDA

MAZINHO
Augusto FERNÁNDEZ

Milorad RATKOVIĆ

Fabián CANOBBIO

VÁGNER

Peter LUCCIN

JESULI

YAYO Sanz



FORWARDS:




NOLITO

PICHI LUCAS

MAURO Rodríguez

Francisco ROIG

Adolfo ATIENZA

BALTAZAR

ABEL Fernández

Fabián ORELLANA

Ramón POLO

NOLETE

Rogelio TAPIA

EDU


THE BEST EVER XI: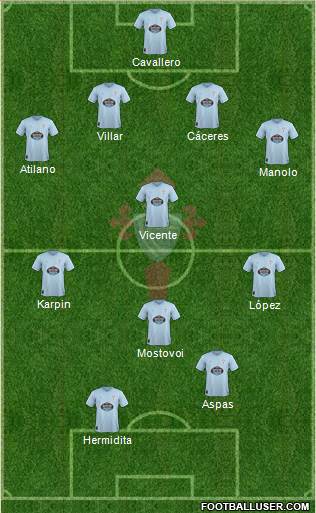 GK
CAVALLERO
CB
VILLAR
CB
CÁCERES
RB
ATILANO
LB
MANOLO ©
DMF
VICENTE
RMF
KARPIN
LMF
LÓPEZ
AMF
MOSTOVOI
CF
HERMIDITA
SS
ASPAS
Captain: Manolo
Short Free Kick: Aleksandr Mostovoi
Long Free Kick: Aleksandr Mostovoi
Left Corner: Aleksandr Mostovoi
Right Corner: Aleksandr Mostovoi
Penalty: Aleksandr Mostovoi
INFO AND HISTORICAL SQUADS: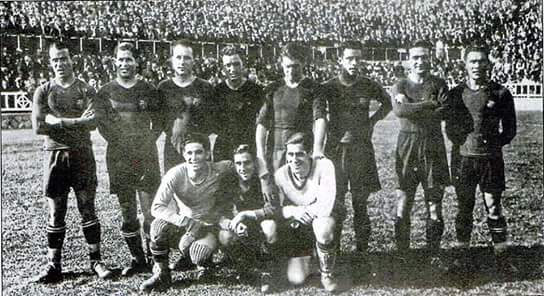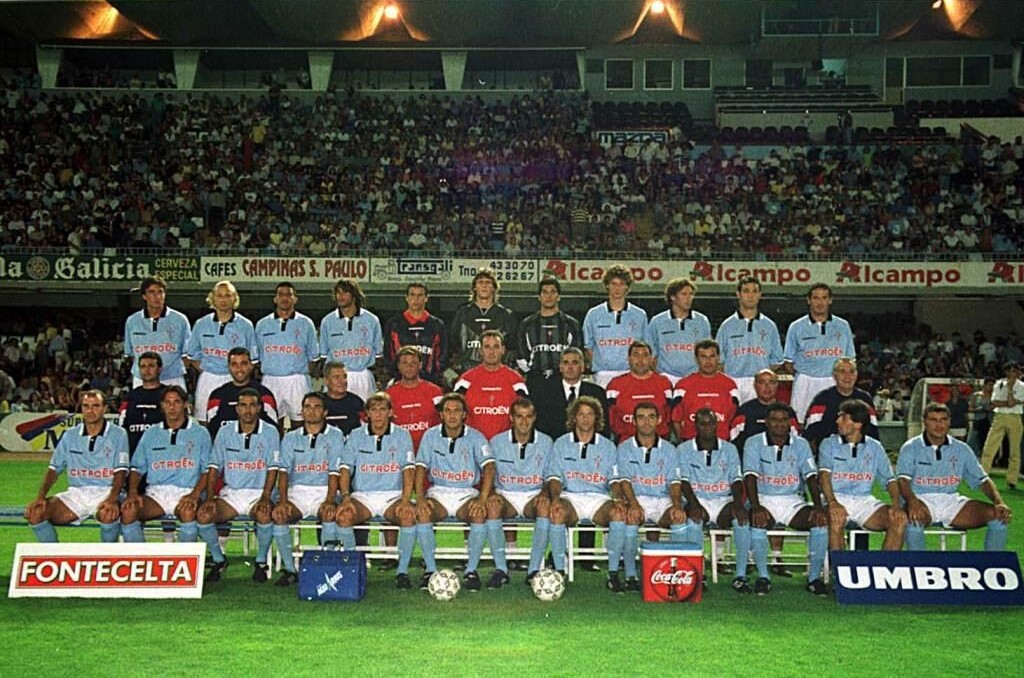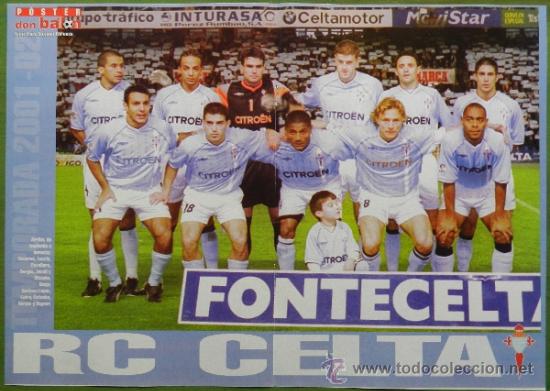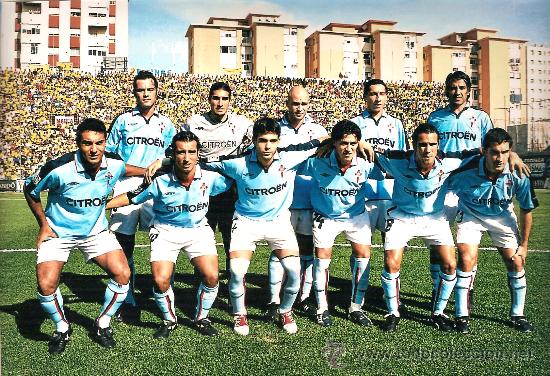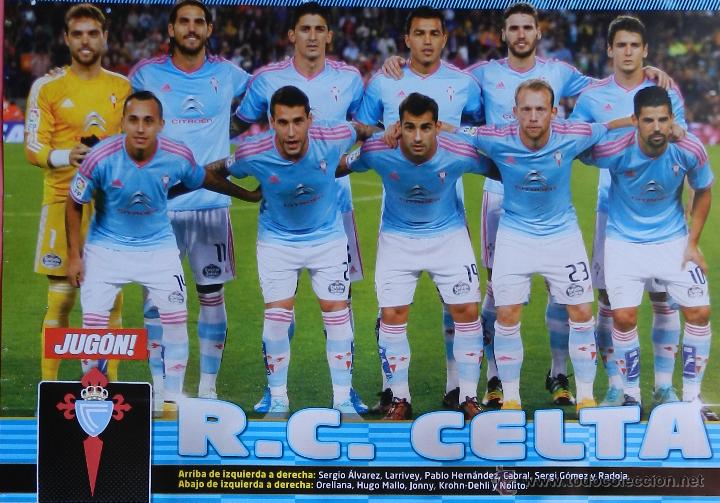 R.C. Celta de Vigo was formed as a result of the ambition of Vigo's teams to achieve more at national level. The idea was to merge both teams to create a more powerful team at national level. The standard-bearer of this movement was Manuel de Castro, known as "Handicap", a sports writer for the Faro de Vigo who, from 1915, began to write in his articles about the need for a unitarian movement. The slogan of his movement was "Todo por y para Vigo" ("All for and to Vigo"), which eventually found support among the managers of Real Vigo Sporting and Real Club Fortuna de Vigo. It was backed unanimously when de Castro himself presented the motion at the assembly of the Royal Spanish Football Federation in Madrid on 22 June 1923.On 12 July 1923, at the annual general meetings (AGMs) of Vigo and Fortuna held at the Odeon Theatre and in the Hotel Moderno, respectively, the merger was approved. Thus the "Team of Galicia" was born, as it was dubbed. In the last AGM of Fortuna and Vigo to approve the formation of a new club held on 10 August 1923, the members decided upon the team's name. Various names suggested include "Real Unión de Vigo", "Club Galicia", "Real Atlántic", "Breogán" and "Real Club Olimpico". The latter name was popular, but they eventually decided on "Real Club Celta", an ethnic race linked to Galicia (see Celts). The first president of Celta was Manuel Bárcena de Andrés, the Count of Torre Cedeira. At this AGM, the squad was also decided, which numbered 64 players in total and included some notable players from both Fortuna and Vigo.
The first ever match of the new found club was on september 23rd 1923. against Portuguese side Boavista F.C. which Galician side won 8:2. In 1923-24 season thy debuted in the Spanish cup losing in the first round against current champions Athletic Bilbao. From 1928. Celta play at the Balaidos stadium.
During 40s and 50s in last century, Celta was a regular in Spanish First Division, finishing fifth on two occasions and once as fourth which is still their best placement in the First Division (repeated only in season 2002-03). During these two decades Celta was led most notably by the former legendary Spanish goalkeeper Ricardo Zamora. Notable players from that time were: Hermidita, Pahiño , Miguel Muñoz, Francisco Roig, Yayo Sanz, Gabriel Alonso, etc. 60s were not succesful for the Galicians, since they spent a decade in the second divison.
In the season 1970-71 Celta finished sixth and earned a spot in the next season UEFA Cup. That was a first time for the club to compete in European competitions. Unfortunately their european path ended in the first round, as they lost both matches with the Scottish side Aberdeen FC. During the 70s club was led on the pitch by the legendary captain Manolo who is still a record holder for a number of matches played for Celta. From the 1975 until begining of the 90s club was on the rollercoaster, constantly being relegated from the First Divison, and again promoting to the same one.
1997 through to 2003 saw arguably the best results in Celta's history, this period They were dubbed "EuroCelta" by the Spanish press as a result of their European exploits, notable results included a 4–1 aggregate win against Liverpool in the 1998–99 UEFA Cup, a 4–0 second leg thumping of Juventus in the 1999–2000 UEFA Cup and a 7–0 home win against Benfica also in the 1999–2000 UEFA Cup. The club would qualify for the 2003–04 UEFA Champions League eventually going out in the last 16 to Arsenal 5–2 on aggregate. Key players during the period included Alexander Mostovoi, Valery Karpin and Haim Revivo, though the squad also relied upon other international players as well, such as goalkeeper Pablo Cavallero; defender and future coach Eduardo Berizzo, midfielders Claude Makélélé and Mazinho; winger Gustavo López; and strikers Catanha and Lyuboslav Penev, amongst others.
Celta had a dramatic reversal of fortune in 2003–04. In the previous season, they finished fourth in the league, putting them in the third qualifying round of the Champions League. Celta entered the group phase after eliminating Slavia Prague, and eventually reached the last 16 before being knocked out by Arsenal. However, their domestic form was disastrous, finishing second-to-last in La Liga, thus sealing their relegation to the Segunda División. Although the squad was heavily dismantled following the demotion, Celta earned an immediate return to the top flight after finishing second in 2004–05. In the 2005–06 season, they finished sixth earning a return once more to the UEFA Cup. They made it to the last 16 in that competition as well before losing to German side Werder Bremen. The next year, 2006–07, Celta finished in 18th and were once again relegated to the Segunda División. At the end of June 2007, Celta avoided going into administration. However, if an agreement was not put in place between the club and its creditors within three months, then courts would declare the liquidation of the club's assets. Due to heavy debt, the club was forced to sell many players and make tremendous cuts in the club's finances. Since then, they have been relying mainly on the reserve team, combined with some inexpensive signings. During the first three seasons in the Segunda División, the club struggled to avoid further relegation, all amid fears of the club's complete disappearance. This was a period of high instability, with constant changes of managers and players. In the 2010–11 season, however, the signings of striker David Rodríguez, winger Enrique de Lucas and manager Paco Herrera turned the situation around. The club finished sixth after a fantastic season and qualified for promotion. Nevertheless, they were eliminated in the first knockout round by Granada after a penalty shootout, the game having finished 1–1 in 90 minutes.
On 3 June 2012, Celta returned to La Liga after a five-year absence.[2] In their first season back, they avoided relegation to the Segunda División on the final day after beating RCD Espanyol 1–0 to ensure a 17th-place finish. On 8 June 2013, Celta announced they had signed former Roma and then-Barcelona B manager Luis Enrique to lead the club for the 2013–14 season. Under Luis Enrique, Celta flourished, finishing ninth. After Luis Enrique's departure, his replacement, Eduardo Berizzo, led the team to eighth in La Liga during 2014–15, and the following season season saw Celta's highest finish in ten years, finishing in sixth position[3] and earning a place in the 2016–17 UEFA Europa League. In their return to European competitions, Celta reached the semifinals of the 2016–17 UEFA Europa League, where they were eliminated by Manchester United.