Montpellier Hérault Sport Club All Stars
GOALKEEPERS:
Alain DESSONS
Geoffrey JOURDREN
DEFENDERS:
/
Joseph KAUCSAR
Bruno CAROTTI
Laurent BLANC
Vitorino HILTON
Michel DER ZAKARIAN
Mapou YANGA-MBIWA
Pascal BAILLS
Júlio CÉSAR
MIDFIELDERS:
Abderrahman MAHJOUB
René DEDIEU
Abdelkader FERHAOUI
Carlos VALDERRAMA
Jean-Christophe ROUVIÈRE
Younès BELHANDA
Remy CABELLA
Jean-Claude LEMOULT
ATTACKERS:
Roger MILLA
Roger ROLHION
Souleymane CAMARA
Olivier GIROUD
Fabrice DIVERT
*************************************************
RESERVES:
GOALKEEPERS:
Bruno MARTINI
Albert RUST
Claude BARRABÉ




DEFENDERS:




Alain HOPQUIN

Henri AUGÉ

Hervé ALICARTE

Nenad STOJKOVIĆ
Régis DURAND

Franck SILVESTRE

Serge BLANC

Milorad MITROVIĆ
Franck LUCCHESI

Hervé MIROUZE

Wilbert SUVRIJN

Marc BOURRIER

Patrick BALDASSARA




MIDFIELDERS:




Thierry LAUREY

René GÉRARD

Michel MÉZY

Vincent GUÉRIN
Edmond KRAMER

Pierre HORNUS

Bernard DUCUING

Louis MISTRAL

Aljoša ASANOVIĆ
Philippe DELAYE

Christian SARRAMAGNA
Mama OUTTARA

Joseph BONNEL
Gérald PASSI




ATTACKERS:




Christophe SANCHEZ

Branislav SEKULIĆ
Louis FAVRE

Auguste KRAMER

Frédéric N'DOUMBÉ

Istvan ZAVADSKY

Jacky VERGNES

Goerges KRAMER

Sékou TOURÉ

Jean-Marc VALADIER

Víctor MONTAÑO

Hugo CURIONI

Fleury DI NALLO
FORMATION BY MILOS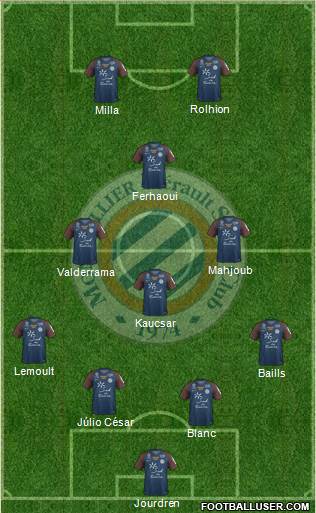 ADDITIONAL IMAGES AND INFO: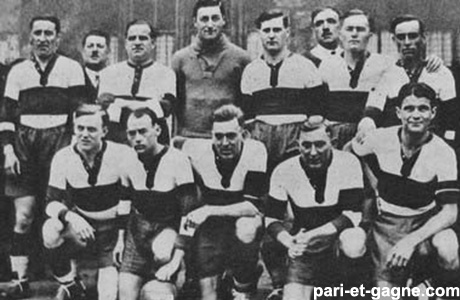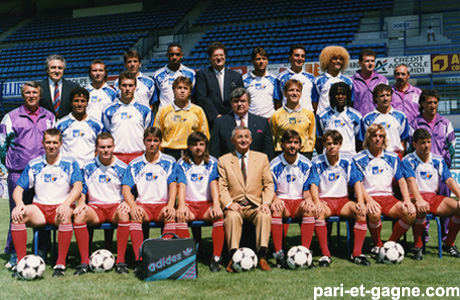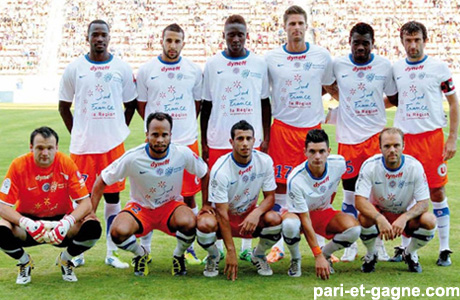 Montpellier Hérault Sport Club is a French football club based in Montpellier, founded in 1919 as the Olympic Stadium Montpellier (SOM). In 1914, the notables of Montpellier create an interim committee to encourage sports in order to give birth to a sports club named the Olympic Stadium Montpellier (SOM). There are plans to build a sports park near the old maternity (Avenue of Professor Grasset today) but the beginning of World War I stopped the project. After winning the Coupe de France in 1929, Montpellier participate in the inaugural Professional National Championship in 1932 along with nineteen other clubs pioneers. The club will then alternate the Hérault seasons in Division 1 and Division 2 for thirty-seven years before collapsing in the early 1970s. When the club was bought in November 1974 by Louis Nicollin, it evolves in honor of the division of the southeast and it was under his guidance the club Herault, Montpellier then called the Littoral Paillade Sports Club will go back to the highest level in only eight seasons.
It was not until 1989 that the club adopted its present name definitively remaining so in the spirit of the French football club as a relatively young. The Montpellier HSC will then experience a period of success with a Cup victory in France in 1990 and several participations in European Cups. During the 1990-1991 season, the MHSC, led by Henryk Kasperczak is the author of a remarkable journey in Cup Winners' Cup. Opposite the first round of Romario at PSV Eindhoven, the club requires 1-0 at home thanks to Jacek Ziober then brilliantly resists outside (0-0). Before the sufficiency of the Dutch who had taken up his team, Louis Nicollin said "They took us for hams and we showed them who we were". Then erase the Montpellier Steaua Bucharest (5-0 and 3-0 away) and found in the quarterfinals the great Manchester United. The sharing Pailladins get points at Old Trafford but lost in the second leg (0-2) But in the early 2000s, the club back down in League 2 even narrowly avoiding relegation to National before Rolland Courbis Girard then do bring it back to the front of the French stage in 2010. In 2012, René Girard and his team return in club history by winning the first championship of France Montpellier HSC. The club in the first division since the 2009-2010 season, is still to this day chaired by Louis Nicollin who is also the principal shareholder. The team is currently defending champion France championship football. After moving to Park Balloons Blades and stage of its inception, the Sports Park Avenue du Pont Juvenal between 1923 and 1967 and Richter at the stage until 1974, the club moved permanently to the stage Mosson in 1976. Since 2001, the Montpellier HSC also has a women's team who plays first nationally during the 2011-2012 season.