It's Mick Mills, not Nick.
Anyway, thanks for the team but the formation doesn't look right TBH.
Ray Crawford (the best ever scorer in Ipswich history who scored 33 goals when they won their only championship in 1962) and Ted Phillips (third best scorer in club history, scored 28 goals in the championship season and was considered as the man with the hardest shot in the league during his prime) would IMO rather deserve a spot here than Brazil and Gates.
And the most important thing: where is Kevin Beattie? He's the best defender (IMO even the best player) to ever play for Ipswich and must be in best XI here. Unlike Butcher and Osman who both were classic CBs (good at marking, strong in the air and physical duels), Beattie was complete defender (he could could mark his opponents but was also able to play accurate long balls from distance, had a powerful shot, was strong in the air and had excellent technique for a CB) who could play as both CB and LB. Unfortunately injuries prevented him from playing in the UEFA Cup final in 1981 and also from having a bigger role in English NT.
Since Osman, Mills and Butcher all deserve their spot as well, I would remove McCall and move Mills to the right side for him.
To conclude it, this would be the formation I'd suggest here:
THE BEST EVER XI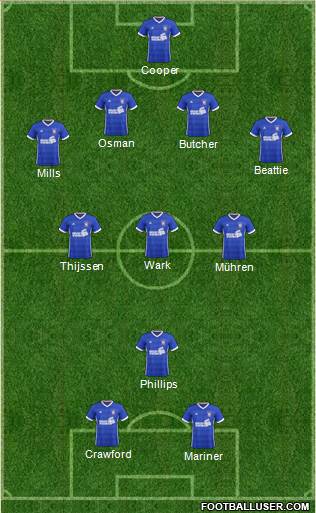 GK
COOPER
CB
OSMAN
CB
BUTCHER
RB
MILLS ©
LB
BEATTIE
CMF
THIJSEN
CMF
WARK
CMF
MÜHREN
SS
PHILLIPS
CF
CRAWFORD
CF
MARINER
Captain: Mick Mills
Short Free Kick: Ted Phillips | Arnold Mühren
Long Free Kick: Arnold Mühren | Ted Phillips
Left Corner: Arnold Mühren
Right Corner: Arnold Mühren
Penalty: John Wark | Ted Phillips | Kevin Beattie
Other changes that should be made here:
Clive Woods <-> Jimmy Leadbitter
Andy Nelson was defender, not midfielder.
Players that should be added here:
Roger OSBORNE (124 matches for Ipswich, scored the winning goal in the 1978 FA Cup final)
Ken MALCOLM (long time LB of Ipswich in the 1950s and 1960s who unfortunately missed most of the 1961-62 season due to an injury)
Tommy PARKER (456 matches for Ipswich, long time captain until his retirement in 1957)
Basil ACRES (defender who appeared in 285 matches, part of the Ipswich Town Hall of Fame)
Since there are only three strikers in reserves you could add:
Doug MORAN (inside forward of the team that won championship in third/second/first division between 1960 and 1962)
David JOHNSON (Whymark's partner in attack for four years, part of Ipswich Hall of Fame, later won several titles with Liverpool)
Roy STEPHENSON
Daryl MURPHY
Pablo COUNAGO