Juventus
Football
Club
All
Stars
Stadium(s)
:
Stadio delle Alpi (67.229)
Juventus Arena (41.475)
COACHES
:
Giovanni TRAPATTONI
Marcello LIPPI
GOALKEEPERS:
Dino ZOFF
Gianluigi BUFFON
DEFENDERS:
Virginio ROSETTA
Pietro RAVA
Carlo PAROLA
Sandro SALVADORE
Gaetano SCIREA
Claudio GENTILE
Antonio CABRINI
MIDFIELDERS:
Giuseppe FURINO
Franco CAUSIO
Marco TARDELLI
Michel PLATINI
Antonio CONTE
Zinédine ZIDANE
Pavel NEDVĚD
FORWARDS:
Raimundo ORSI
John HANSEN
Giampiero BONIPERTI
Omar SĺVORI
Roberto BETTEGA
Roberto BAGGIO
Alessandro DEL PIERO
_____________________________________________________________
RESERVES:
GOALKEEPERS:
Gianpiero COMBI
Roberto ANZOLIN
Stefano TACCONI
Angelo PERUZZI
DEFENDERS:
Umberto CALIGARIS
Alfredo FONI
Rino FERRARIO
Luciano SPINOSI
Antonello CUCCUREDDU
Sergio BRIO
Jürgen KOHLER
Ciro FERRARA
Moreno TORRICELLI
Gianluca PESSOTTO
Mark IULIANO
Paolo MONTERO
Lilian THURAM
Gianluca ZAMBROTTA
Giorgio CHIELLINI
MIDFIELDERS:
Carlo BIGATTO
Mario VARGLIEN I
Giovanni VARGLIEN II
Luis MONTI
Giovanni FERRARI
Luis DEL SOL
Romeo BENETTI
Fabio CAPELLO
Massimo BONINI
Angelo DI LIVIO
Didier DESCHAMPS
Alessio TACCHINARDI
Edgar DAVIDS
Mauro CAMORANESI
Claudio MARCHISIO
Andrea PIRLO
Arturo VIDAL
FORWARDS:
Ferenc HIRZER
Felice BOREL II
Karl Aage PRÆST
John CHARLES
Pietro ANASTASI
Helmut HALLER
Paolo ROSSI
Zbigniew BONIEK
Gianluca VIALLI
Fabrizio RAVANELLI
Filippo INZAGHI
David TRÉZÉGUET
FORMATION:
GK

. ZOFF



SW

. SCIREA



RB

. GENTILE----

CB

. PAROLA----

LB

. CABRINI



CMF

. TARDELLI



AMF

. BONIPERTI----

AMF

. PLATINI



SS

. DEL PIERO/SĺVORI---

CF

. HANSEN/BETTEGA---

LWF

. ORSI

Captains: Gaetano Scirea | Carlo Parola | Alessandro Del Piero | Dino Zoff
Short Free Kick: Michel Platini | Alessandro Del Piero
Long Free Kick: Michel Platini | Alessandro Del Piero
Left Corner: Michel Platini | Alessandro Del Piero
Right Corner: Michel Platini | Alessandro Del Piero
Penalty: Michel Platini | Alessandro Del Pierro | Raimundo Orsi
HISTROICAL SQUADS AND INFO: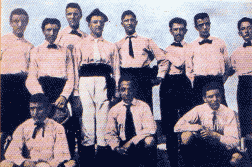 Juventus were founded as Sport Club Juventus in late 1897 by pupils from the Massimo D'Azeglio Lyceum school in Turin, but were renamed as Foot-Ball Club Juventus two years later. The club joined the Italian Football Championship during 1900. During this period the team wore a pink and black kit. Juventus first won the league championship in 1905 while playing at their Velodromo Umberto I ground. By this time the club colours had changed to black and white stripes, inspired by English side Notts County.
There was a split at the club in 1906, after some of the staff considered moving Juve out of Turin. President Alfredo Dick was unhappy with this and left with some prominent players to found FBC Torino which in turn spawned the Derby della Mole. Juventus spent much of this period steadily rebuilding after the split, surviving the First World War.
Fiat owner Edoardo Agnelli gained control of the club in 1923, and built a new stadium. This helped the club to its second scudetto (league championship) in the 1925–26 season beating Alba Roma with an aggregate score of 12–1, Antonio Vojak's goals were essential that season. The 1930s proved to be even more fruitful, the club won five consecutive league titles from 1930 through to 1935, most were under coach Carlo Carcano with star players such as Raimundo Orsi, Luigi Bertolini, Giovanni Ferrari and Luis Monti amongst others.
Juventus moved to the Stadio Comunale, but for the rest of the 1930s and the majority of the 1940s they were unable to recapture championship dominance.
After the Second World War, Gianni Agnelli was appointed honorary president. The club added two more league championships to its name in the 1949–50 and 1951–52 seasons, the latter of which was under the management of Englishman Jesse Carver.
Two new strikers were signed during 1957–58; Welshman John Charles and Italo-Argentine Omar Sivori, playing alongside longtime member Giampiero Boniperti. That season saw Juventus awarded with the Golden Star for Sport Excellence to wear on their shirts after becoming the first Italian side to win ten league titles. In the same season, Omar Sivori became the first ever player at the club to win the European Footballer of the Year. The following season they beat Fiorentina to complete their first league and cup double, winning Serie A and Coppa Italia. Boniperti retired in 1961 as the all-time top scorer at the club, with 182 goals in all competitions, a club record which stood for 45 years.
During the rest of the decade the club won the league just once more in 1966–67, However, the 1970s saw Juventus further solidify their strong position in Italian football. Under former player Čestmír Vycpálek they won the scudetto in 1971–72 and 1972–73, with players such as Roberto Bettega, Franco Causio and José Altafini breaking through. During the rest of the decade they won the league twice more, with defender Gaetano Scirea contributing significantly. The later win was under Giovanni Trapattoni, who helped the club's domination continue on into the early part of the 1980s.
The Trapattoni-era was highly successful in the 1980s; the club started the decade off well, winning the league title three more times by 1984.[24] This meant Juventus had won 20 Italian league titles and were allowed to add a second golden star to their shirt, thus becoming the only Italian club to achieve this.[28] Around this time the club's players were attracting considerable attention; Paolo Rossi was named European Footballer of the Year following his contribution to Italy's victory in the 1982 FIFA World Cup, where he was named player of the tournament.
Frenchman Michel Platini was also awarded the European Footballer of the Year title for three years in a row; 1983, 1984 and 1985, which is a record. Juventus are the only club to have players from their club winning the award in four consecutive years. Indeed it was Platini who scored the winning goal in the 1985 European Cup final against Liverpool, however this was marred by a tragedy which changed European football. The Heysel Stadium disaster, in which 39 people (mostly Juventus fans) were killed when a stadium wall collapsed, has been called by UEFA Chief Executive Lars-Christer Olsson in 2004, "the darkest hour in the history of the UEFA competitions", and resulted in the banning of all English clubs from European competition.
With the exception of winning the closely contested Italian Championship of 1985–86, the rest of the 1980s were not very successful for the club. As well as having to contend with Diego Maradona's Napoli, both of the Milanese clubs, Milan and Internazionale, won Italian championships. In 1990, Juventus moved into their new home, the Stadio delle Alpi, which was built for the 1990 World Cup.
Marcello Lippi took over as Juventus manager at the start of the 1994–95 campaign. His first season at the helm of the club was a successful one, as Juventus recorded their first Serie A championship title since the mid-1980s. The crop of players during this period featured Ciro Ferrara, Roberto Baggio, Gianluca Vialli and a young Alessandro Del Piero. Lippi lead Juventus to the Champions League the following season, beating Ajax on penalties after a 1–1 draw in which Fabrizio Ravanelli scored for Juve.
The club did not rest long after winning the European Cup, more highly regarded players were brought into the fold in the form of Zinédine Zidane, Filippo Inzaghi and Edgar Davids. At home Juventus won Serie A in 1996–97 and 1997–98, as well as the 1996 UEFA Super Cup[33] and the 1996 UEFA / CSF Intercontinental Cup.[34] Juventus reached the 1997 and 1998 Champions League finals during this period, but lost out to Borussia Dortmund and Real Madrid respectively.
After a season's absence Lippi returned, signing big name players such as Gianluigi Buffon, David Trézéguet, Pavel Nedvěd and Lilian Thuram, helping the team to two more scudetto titles in the 2001–02 and 2002–03 seasons. Juventus were also part of an all Italian Champions League final in 2003 but lost out to Milan on penalties after the game ended in a 0–0 draw. The following year, Lippi was appointed as Italy's head coach, bringing an end to one of the most fruitful managerial spells in Juventus' history.
Fabio Capello became its coach in 2004, and led Juventus to two more Serie A titles. However, in May 2006, Juventus became one of the five clubs linked to a Serie A match fixing scandal, the result of which saw the club relegated to Serie B for the first time in its history. The club was also stripped of the two titles won under Capello in 2005 and 2006.
Many key players left following the demotion to Serie B, including Thuram, star striker Zlatan Ibrahimović and defensive stalwart Fabio Cannavaro. However, other big name players such as Buffon, Del Piero and Nedvěd remained to help the club return to Serie A while youngsters from the Primavera such as Sebastian Giovinco and Claudio Marchisio were integrated into the first team. The bianconeri were promoted straight back up as league winners after the 2006–07 season while captain Del Piero claimed the top scorer award with 21 goals. Since their return to Serie A in the 2007–08 season former Chelsea manager Claudio Ranieri managed Juventus for two seasons. They finished in 3rd place in their first return season (2007–08) and qualified for the third qualifying round of the 2008–09 Champions League Preliminary stages. They qualified to the group stages, and did very well, beating Real Madrid in both home and away legs, but lost in the knockout round to Chelsea. Claudio Ranieri was sacked following a string of unsuccessful results, and Ciro Ferrara was appointed as the coach for the last two games of the season.[39] Ferrara was subsequently appointed as the coach for the 2009–10 season.
Ferrara's stint as Juve head coach proved to be however unsuccessful, with Juve knocked out of UEFA Champions League and Coppa Italia, and just lying on the sixth place in the league table at the end of January 2010, leading to the dismissal of Ciro Ferrara and his replacement with Alberto Zaccheroni. Zaccheroni could not help the side improve as Juventus finished the season in 7th place in Serie A without any trophies. For the 2010–11 season Jean-Claude Blanc was replaced by Andrea Agnelli as club's president. Agnelli's first action was to replace Zaccheroni by former Sampdoria manager Luigi Delneri.
MORE INFO:
http://en.wikipedia.org/wiki/History_of_Juventus_F.C