Bologna
F.C.
1909
All
Stars
GOALKEEPERS:
Mario GIANNI
William NEGRI
DEFENDERS:
Tazio ROVERSI
Paride TUMBURUS
Mauro BELLUGI
Eraldo MONZEGLIO
Ivan JENSEN
Francesco JANICH
Felice GASPERI
Dino BALLACCI
MIDFIELDERS:
Amedeo BIAVATI
Helmut HALLER
Carlo REGUZZONI
/
Raffaele SANSONE
Giacomo BULGARELLI
/
Michele ANDREOLO
Axel PILMARK
Romano FOGLI
ATTACKERS:
Gino CAPPELLO
/
Ettore PURICELLI
Harald NIELSEN
Ezio PASCUTTI
Angelo SCHIAVIO
*****************************************************
RESERVES:
GOALKEEPERS:
Carlo CERESOLI
Gianluca PAGLIUCA
Giuseppe VAVASSORI
DEFENDERS:
Mirko PAVINATO
Franco CRESCI
Carlo FURLANIS
Michele PARAMATTI
Battista ROTA
Gastone BALDI
Dino FIORINI
Bruno CAPRA
Massimo PAGANIN
Stefano TORRISI
MIDFIELDERS:
Mario MONTESANTO
Bernardo PERIN
Pietro GENOVESI
/
Francisco FEDULLO
Giancarlo MAROCCHI
Lajos DÉTÁRI
Alfredo PITTO
Carlo NERVO
Héctor DEMARCO
Eraldo PECCI
Ivan GREGORI
ATTACKERS:
Cesarino CERVELLATI
Kubilay TÜRKYILMAZ
Giuseppe DELLA VALLE
Igor KOLYVANOV
Gino PIVATELLI
Giuseppe SIGNORI
Marino PERANI
István Mayer MIKE
Marco DI VAIO
Kennet ANDERSSON
Giuseppe SAVOLDI
Bruno MAINI
ADDITIONAL INFO AND IMAGES: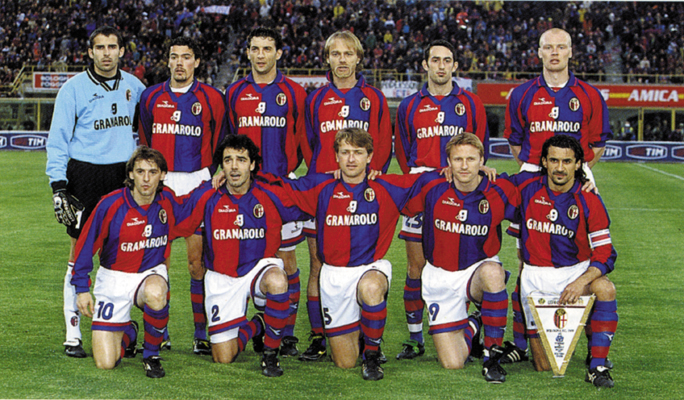 Bologna Football Club 1909 is an Italian football club based in Bologna, Emilia-Romagna. They were formed in 1909 and continue on today. The club are nicknamed the rossoblù because of the red and blue striped shirts they wear. During its history the club has won the Italian League Championship seven times. They are the sixth most successful team in the league ever. Bologna F.C. was promoted to Serie A for the 2008–09 season, having last played in the top division in 2004–05. Bologna Football Club's formation was orchestrated by Emilio Arnstein, an Austrian who became interested in football at university in Vienna and Praga. He and his brother had previously founded another football club Black Star F.C. in Austria.
The club was founded on 3 October 1909, in the Northern Italian city of Bologna. Upon its formation, Carlo Sandoni was the clubs sponsor and General manager, Swissman Louis Rauch became president, nobleman Guido Della Valle was the vice-president, Enrico Penaglia secretary, Sergio Lampronti cashier, while Emilio Arnstein and Leone Vincenzi were appointed councilmen. On 20 March 1910 Bologna played their first ever game, it was against Virtus (who wore white shirts), Bologna outclassed their opponents winning 9–1. The first football squad featured; Koch, Chiara, Pessarelli, Bragaglia, Guido Della Valle, Nanni, Donati, Rauch, Bernabeu, Mezzano and Gradi.
Their formative season was spent in the regional league under Arrigo Gradi as captain, Bologna won their league gaining promotion to a league named Group Veneto-Emiliano. They spent four seasons in this league, never finishing lower than fifth. Bologna were entered into the Northern League before all football leagues were postponed for World War I. After World War II, the club was less successful. Throughout the 1950s and 1960s, the club generally floated between 4th, 5th and 6th position in the league, until they took the league title back in 1963–64. To date this remains their last Serie A championship, bringing the club's total to seven.
It was not all doom and gloom for the club however, in the 1970s they won the Italian Cup twice, the second of which was competed against Palermo, the game was tense and finished 1–1 beforing going to a penalty shootout, Bologna won the shootout 4–3. Despite losing some key players, Bologna expected to be challenging strongly for promotion from Serie B in the 2005–06 campaign. However, despite its ambition, Bologna had a poor start to the season, causing the sacking of experienced coach Renzo Ulivieri, replaced by former Internazionale F.C. defender Andrea Mandorlini.
During this time, the team was sold by Giuseppe Gazzoni Frascara to Alfredo Cazzola, a local entrepreneur. However, Mandorlini was not either able to bring Bologna up the Serie B table, and was fired on March 5, 2006; Ulivieri was then appointed back as team coach, after having been sacked a few months before. Bologna ended the 2005–2006 Serie B campaign in eighth place. In the 2006–2007 season, Bologna ended with the seventh place: the season has been however characterized by several clashes between chairman Cazzola and head coach Ulivieri, who was ultimately fired on April 14, 2007 and replaced by caretaker and former assistant coach Luca Cecconi. For the 2007–2008 season, Bologna was led by Daniele Arrigoni, who helped the Rossoblu achieve automatic promotion back to the top flight after finishing second in Serie B.
During the summer, a club takeover was agreed between Cazzola and a United States-based consortium; this was however cancelled in the end, following disagreements between the parties, and the club was successively sold to a local group led by new chairman Francesca Menarini, who thus became the second female chairman in the whole Serie A. Arrigoni was confirmed as head coach by the new group, and the start appeared to be particularly impressive, with a surprising 2–1 win at San Siro against AC Milan thanks to a winning goal scored by Serie A novice Francesco Valiani. However, the next weeks saw Bologna struggling in the league, with eight losses in nine matches.