---
GOALKEEPERS:
Carlo CERESOLI
Giuseppe CASARI
DEFENDERS:
Battista ROTA
Bertil NORDAHL
Paolo MONTERO
Alfredo PESENTI
Carlo ANNOVAZZI
Sergio PORRINI
Bengt GUSTAVSSON
Massimo CARRERA
MIDFIELDERS:
Stefano ANGELERI
Giacomo MARI
Flemming NIELSEN
Humberto MASCHIO
Severo COMINELLI
Glenn STRÖMBERG
Umberto COLOMBO
Cristiano DONI
ATTACKERS:
Claudio CANIGGIA
Jørgen SØRENSEN
Angelo LONGONI
Poul RASMUSSEN
Adriano BASSETTO




*********************************************



RESERVES:




GOALKEEPERS:




Pier Luigi PIZZABALLA
Zaccaria COMETTI
Fabrizio FERRON
DEFENDERS:
Antonio PERCASSI
Luciano ZAURI
Pierluigi RONZON
Cristian ZENONI
Piero GARDONI
Zoran MIRKOVIĆ
Livio RONCOLI
Giovanni VAVASSORI
Bruno DIVINA
Gianpaolo BELLINI
Damiano ZENONI
MIDFIELDERS:
Vittorio CASATI
Marino MAGRIN
Valter BONACINA
Daniele FORTUNATO
Eligio NICOLINI

Alejandro GÓMEZ

Giancarlo CADÈ

Robert PRYTZ
Vittorio SCHIAVI

Svend Jørgen HANSEN
Edmondo FABBRI
Francesco SIMONETTI




ATTACKERS:




Giacomo CORNOLTI

Giulio PANZERI

Július KOROSTELEV
Enrico NOVA
Giovanni GADDONI
Hasse JEPPSON
EVAIR
Maurizio GANZ
Renato SANERO

German DENIS
Roberto DONADONI
Angelo DOMENGHINI
ADDITIONAL INFO AND IMAGES: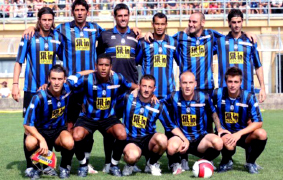 The club was founded in 1907. A football club had existed in Bergamo since 1904. Founded by Swiss emigrants, it was known as FC Bergamo. The rival Atalanta club grew out of a division between different sporting societies in the town. The name is taken from the female athlete of Greek mythology. The FIGC was unimpressed with the new club and did not officially recognize them until 1914. The current club is the result of a merger between Atalanta and a third team called Bergamasca. The first, black and white coloured and the second wearing a blue and white shirt, merged in 1924 as Atalanta Bergamasca di Ginnastica e Scherma 1907. The team moved to the site of the current ground, on the Viale Giulio Cesare, in 1928.

Atalanta joined the Italian league in 1929. The club first reached Serie A in 1937, but was relegated immediately. The club returned in 1940 and remained in A until 1959; after a single season in Serie B the club was promoted and lasted a further decade in A, before relegation in 1973 led to an uncertain period of promotion and relegation between the two levels. The club achieved its highest position in 1948, finishing in 5th place. In 1981 the club fell into Serie C1, a blow which revitalised the club. The team returned to B the next season and made it back to A in 1985. The club's form in Serie A remains uncertain, as it was relegated in 1988, 1995, 1998 and 2005.

In terms of titles the club has won little, their sole silverware is the 1963 Coppa Italia. The club has had very few good runs in Europe, the best spell ending in a Cup Winners' Cup semi-final in 1988; in 1991 Atalanta reached UEFA Cup quarter-finals. The club has had very few famous players. However, Atalanta has been proven to run a successful youth system, producing footballers like Roberto Donadoni (Italy national team coach from July 2006), Alessio Tacchinardi, Domenico Morfeo, Giampaolo Pazzini, Riccardo Montolivo, Ivan Pelizzoli, and Samuele Dalla Bona who have quickly been grabbed by the bigger clubs.