COACH:
Ottavio BIANCHI
GOALKEEPERS:
Ottavio BUGATTI
Luciano CASTELLINI
DEFENDERS:
Giuseppe BRUSCOLOTTI
Ciro FERRARA
Ruud KROL
Alessandro RENICA
Carlo BUSCAGLIA
Giovanni FRANCINI
Eugen VINYEI
Moreno FERRARIO
MIDFIELDERS:
Antonio JULIANO
Salvatore BAGNI
Fernando DE NAPOLI
ALEMÃO
Bruno PESAOLA
Massimo CRIPPA
Antonio VOJAK
Diego Armando MARADONA
ATTACKERS:
Hasse JEPPSON
Attila SALLUSTRO
Antonio CARECA
Andrea CARNEVALE
Luís VINÍCIO
*************************************************************************
RESERVES:
GOALKEEPERS:
Arnaldo SENTIMENTI
Dino ZOFF
DEFENDERS:
Bruno GRAMAGLIA
Stelio NARDIN
Luigi POGLIANA
Giancarlo CORRADINI
Enrico COLOMBARI
Paolo CANNAVARO
Mario ZURLINI

Luciano COMASCHI
Dino PANZANATO
Pierluigi RONZON
Roberto AYALA
André CRUZ

Roberto POLICANO
Dolo MISTONE
MIDFIELDERS:
Antonio GIRARDO

Luca FUSI
Ottavio BIANCHI
Alain BOGHOSSIAN
Marek HAMŠÍK
Francesco ROMANO
Salvatore ESPOSITO

Gianfranco ZOLA
Calso POSIO
Fabio PECCHIA
Paolo TODESCHINI

Jonas THERN
Andrea ORLANDINI
ATTACKERS:
Bruno GIORDANO
Giuseppe SAVOLDI
Juan Carlos TACCHI

Edinson CAVANI
Paolo BARISON
José ALTAFINI
Omar SÍVORI
Amedeo AMADEI
Ezequiel LAVEZZI
Naim KRIEZIU
Beniamino DI GIACOMO
CANÉ
THE BEST EVER XI (by gurkenjoe93)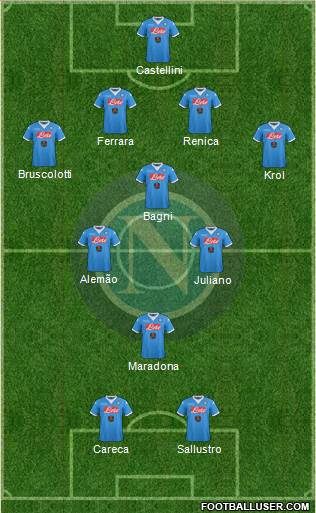 GK
CASTELLINI
CB
FERRARA
SWP
RENICA
RB
BRUSCOLOTTI ©
LB
KROL
DMF
BAGNI
CMF
ALEMÃO
CMF
JULIANO
AMF
/
SS
MARADONA
CF
CARECA
CF
SALLUSTRO
Captain: Giuseppe Bruscolotti | Antonio Juliano | Diego Maradona
Short Free Kick: Diego Maradona
Long Free Kick: Diego Maradona | Alemão | Ruud Krol
Left Corner: Diego Maradona
Right Corner: Diego Maradona
Penalty: Diego Maradona | Antonio Careca
ADDITIONAL INFO AND IMAGES:
The Associazione Calcio Napoli was founded on 1 August 1926. Several clubs already existed at the time: Audace, Open Air and Juventus del Vasto. Its certificate of incorporation was drafted, edited and approved over wine offered by the owners of the D'Angelo restaurant. This document not only changed the name of Internaples, but also its legal status, transforming it from a limited to a stock-holding company, in accordance with a new federal ruling. Giorgio Ascarelli, a wealthy young Neapolitan businessman of Jewish origins, became its first President, to be succeeded by the Honourable Giovanni Maresca di Serracapriola, a much appreciated player on the Naples and U.S. International teams in his youth. Gustavo Zingaro became its third President, followed by Giorgio Ascarelli again, who died at the age of thirty-four, just months before the end of the fourth championship in Serie A. He was succeeded by Giovanni Maresca and Eugenio Coppola. Commander Achille Lauro joined the company in 1936. A southerner and one of Italy's foremost businessmen, he had amassed a huge fortune and could thus, it was thought, secure Naples the Scudetto. He failed. Indeed, some people felt he simply did not want to succeed: perhaps he just did not believe in the team enough. After his four years as President, Gaetano Del Pezzo di Caianello, Professor of Projective Geometry as well as captain and mentor of the blue-and-white U.S. International team, stepped in. Napoli's first streak in Serie A ran from 1926 to 1941 – fifteen consecutive championships in premier league, taking fifth place in the 1929-30 series, fourth in 1932-33, and third in 1933-34, opening the way to European tournaments.
The 1941-42 series finished with Naples in seventeenth place, which meant relegation to Serie B. It came third in Serie B the following season, behind Modena and Brescia, and third in the 1944-45 regional tournament. Serie A was not played that year due to the war, but competition was resumed in 1945-46 with a combination of teams from Serie A and Serie B, in which the Salerno team also participated. Back in Serie A in 1946, Napoli lasted only one season, falling back into Serie B in 1948 for two seasons. Back in Serie A once again, it remained there for eleven straight championships. After another year in Serie B it once again made Serie A and, with the able contribution of Argentine player Bruno Pesaola, nicknamed 'petisso', one of Napoli's greats, won the Coppa Italia in 1961-62. Relegated to Serie B for another two years of purgatory, it managed to fight its way back and win third place in Serie A and the Coppa delle Alpi in 1965-66.
On 25 June 1964, however, the name Associazione Calcio Napoli had been legally changed to Società Sportiva Calcio Napoli, with assets of the equivalent of about 60,000 euros, 40,000 invested by new shareholders. Achille Lauro, still in the company, did not invest anything, but nevertheless obtained 40% of the stock because of sums he was owed from the past. Among the new arrivals was his son, Gioacchino. Roberto Fiore was elected President after a number of meetings, clashes, and attempts to form alternative alliances – even an 'alternative' Napoli. After all this a new association was indeed created, at the suggestion of Gigino Scuotto, Azzurri President the previous year, to be called the Naples Football Club, with Giovanni Proto as President. Proto was a city councillor and a monarchist, which means he had probably reached some sort of agreement with his friend and fellow-monarchist, Achille Lauro. Lauro seemed very interested at first, to the extent of having transfer-of-ownership papers drawn up by a federation functionary, Perlasca. Then he begged for time and in the end failed to show up at the final meeting that would have clinched the deal. Giovanni Proto, as if he were unfamiliar with Lauro's character, was so furious that he tore up his Monarchy Union membership card and declared himself an independent in the city council. To spite Lauro even further, he transferred the assets of the newly founded Napoli Football Club to a company named Cirio, changed its name to Internapoli, supported the Serie D championship, and had the pleasure of launching two heavyweights like Giorgio Chinagli 'Long John' and Pino Wilson in Serie A, on the Lazio team.
Thanks to Roberto Fiore, the Neapolitans finally had a really good team. Fiore, President of Juve Stabia in C2 in the 1990s, was able to pull off two splendid deals, thanks also to the astuteness of Achille Lauro who remained Honorary President. Within weeks he was able to get Omar Sivori and then Josè Altafini from Juventus. The quality of the team skyrocketed. Also in the line-up were the great Totonno Juliano, Faustinho Canè, Vincenzo Montefusco, Postiglione, Panzanato, Bean, etc. Napoli came third in the classification that year, behind Inter and Bologna, with the added joy of upsetting Inter by preventing it from winning its tenth Scudetto. Just at the end of the championship Napoli won at San Paolo against the black-and-blues by 3-1, with three goals by Altafini. The team had never come so close to winning the Scudetto. Fiore did not stop there, but began to think in terms of Nils Liedholm as an addition to the youth division, and to strengthen the team even further by engaging Gigi Meroni, from the Turin team. Lauro and managers Tardugno and Corcione actively tried to interfere with this acquisition, probably because they were envious of the success Roberto Fiore was enjoying. He had managed to entice 69,000 fans into buying season tickets. Whatever the reason, Fiore was forced to hand over the reins to Gioacchino Lauro. Napoli came second in the 1967-68 championship, with Milan taking first place. Among its managers was a young engineer named Corrado Ferlaino, with few shares and fewer words. Corrado Ferlaino, known as 'the engineer', kept a low profile for about a year, contenting himself with staying in the background and studying moves and opponents. Then, when the Venezuelan Antonio Concione, who had been at the helm, died prematurely, he took over. In order to secure a majority of the stock, he bought out Concione's shares from his widow, on a suggestion of the ever-present Achille Lauro.
Ferlaino was elected President on 18 January 1969 at the age of 37, and thus began a new era of glory. He particularly disliked accounts that did not balance and saw to it that this was taken care of first thing, earning him the CONI gold star for sports merit. Apart from a few brief interruptions (he once resigned for eight days), he led Napoli to what would become its golden years. Napoli lost the 1970-71 Scudetto by a hair's breadth, but in 1973-74 it won its second Coppa Italia and the Italian-English League Cup. In 1974-75, under Coach Luis De Menezes Vinicio, another of Napoli's greats – it nearly won the Scudetto for the second time. Ferlaino's first hunch paid off in the summer of 1975 in the person of Beppe Savoldi. There was an uproar over the price (the equivalent of a million euros), but 'Beppe-goal' was to make history. 'Mister million', as some moralists nicknamed him, scored 14 goals in the championship and earned the Azzurri the Coppa Italia – the second in Neapolitan history. At the beginning of the 1980s Ferlaino had another brilliant hunch. Acting in tandem with his close collaborator, Antonio Juliano (pivotal player for the Azzurri in the 1960s, who became General Manager), he decided to sign Ruud Krol, mainstay and mentor of the fabled Dutch team. Rudy nearly earned Napoli the Scudetto, but the dream was shattered on 26 April 1981 in a match against Perugia – already relegated to Serie B – when Ferrario scored an own goal, losing the game for Napoli 0-1.
Time heals all wounds, however, and Napoli was to go on to a period of glory that Neapolitans still refer to as 'the miracle'. General Manager Antonio Juliano, unforgettable Captain of the Azzurri for seventeen years, brought in Diego Armando Maradona from Barcelona, hired two ace managers (Italo Allodi and Pier Paolo Marino) and won Napoli its first Scudetto and third Coppa Italia (1986-87). Then, having hired Luciano Moggi, together with Ottavio Bianchi (who had played for the Azzurri in the 1960s) they proceeded to win the UEFA Cup in 1988-89, their second Scudetto in 1989-90 and the Supercoppa against Juventus in 1990-91, with Albertino Bigon coaching. Corrado Ferlaino left the team in 1993, but did not give up his majority of the stock until a year later, in 1994. It was initially divided into three parts, between the Gallo father and son (Elleno, previous Azzurri Manager, and Luis), Mario Moxedano, a building contractor from Mugnano, and Setten, a businessman from Friuli specializing in kitchens. Mario Moxedano soon resigned, however, worried that Ferlaino would come back and also that the company was up to its ears in debt. Gallo and Setten each now had 46.5% of the shares, while the remaining 7% was in the hands of smaller shareholders, including Ferlaino.Successful undertaking on the 10th of June 2007. Napoli draws in Genoa and reaches the First Division together with the 'grifoni cousins' . An exciting promotion which brings back to the town the enthusiasm of the golden age. The team is welcomed by a crowd of fans pouring in the streets, as to recall the deeds of Napoli during the Maradona age. It officially starts the Neapolitan Renaissance. They come Lavezzi, Hamsik and a team able to conquer Europe on the first year, after a wait that had been lasting for 14 Seasons and almost 5,000 days. This is an international objective that coincides with that one of the next Season with the new Donadoni designer Napoli. Everything at the dawn of the second quinquennium of the De Laurentiis Age..