FEYENOORD

ROTTERDAM


1983

-1984
FEYENOORD ROTTERDAM 1983-1984:
Back Row: Sjaak Troost, Ivan Nielsen, Ruud Gullit, Peter Houtman, Henk Duut and Pierre Vermeulen.
Middle Row: Gerard Meijer (Carer), Ab Fafié (Assistent), Ben Wijnstekers, Peter Brunings, Joop Hiele, Andrej Jeliazkov, Michel van de Korput, André Stafleu and Thijs Libregts (Coach).
Front Row: Johan Molenaar, Ruud Brood, Wim van Til, Johan Cruijff, Mario Been, André Hoekstra and Stanley Brard.
COACH:
Thijs LIBREGTS
GOALKEEPERS:
Peter BRUNINGS
Joop HIELE
Abe KNOOP
Ton van ENGELEN
DEFENDERS:
Stanley BRARD
Henk DUUT
Ivan NIELSEN
André STAFLEU
Sjaak TROOST
Michel van de KORPUT
Ben WIJNSTEKERS
MIDFIELDERS:
Mario BEEN
Johan CRUIJFF
Ruud GULLIT
André HOEKSTRA
Andrej JELIAZKOV
Wim van TIL
FORWARDS:
Willy CARBO
Peter HOUTMAN
Pierre VERMEULEN
FORMATION: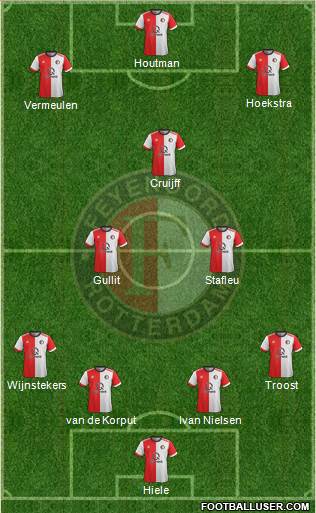 GK
HIELE
CB
Ivan NIELSEN
CB
van de KORPUT
RB
TROOST
LB
WIJNSTEKERS
CMF
STAFLEU
CMF
GULLIT
AMF
CRUIJFF
RWF
HOEKSTRA
LWF
VERMEULEN (BRARD)
CF
HOUTMAN
Captain: Ben Wijnstekers
Short Free Kick: Johan Cruijff
Long Free Kick: Ruud Gullit
Left Corner: Pierre Vermeulen
Right Corner: André Hoekstra
Penalty: Johan Cruijff
HONOURS:
Eredivisie: Winner
KNVB Beker: Winner
MORE INFO:
mondofutbol.com