PRESTON

NORTH END

FOOTBALL CLUB
1888-1889
The Invincibles
PRESTON NORTH END 1888-1889
Standing: Sudell (Manager), Holmes, Ross, Russell, Howarth, J. Graham and Dr Mills-Roberts.
Seated: Gordon, Ross, J. Goodall, Dewhurst and Drummond.
MANAGER:
William SUDDELL
GOALKEEPERS:
James TRAINER
Robert MILLS-ROBERTS
DEFENDERS:
Robert HOWARTH
Robert HOLMES
Richard WHITTLE
William GRAHAM
MIDFIELDERS:
Alexander ROBERTSON
David RUSSELL
John GRAHAM
Archie GOODALL
FORWARDS:
John GORDON
James ROSS
John GOODALL
Frederick DEWHURST
Samuel THOMPSON
Jock INGLIS
Jack EDWARDS
George DRUMMOND
2-3-5 FORMATION: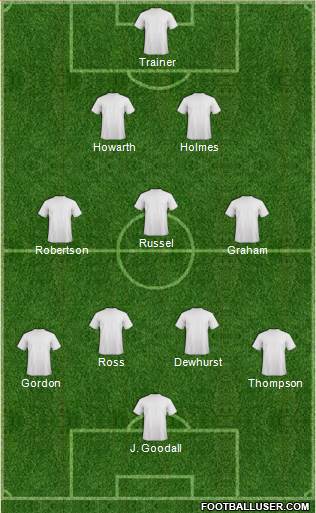 GK
TRAINER
CB
HOWARTH
CB
HOLMES
DMF
ROBERTSON
DMF
RUSSELL
DMF
J. GRAHAM
SS
ROSS
SS
DEWHURST
RWF
GORDON
LWF
THOMPSON
CF
J. GOODALL
Captains: Robert Holmes | David Russell | John Goodall
Short Free Kick: John Gordon
Long Free Kick: John Gordon
Free Kick 2: -
Left Corner: Sam Thompson
Right Corner: John Gordon
Penalty: John Goodall
HONOURS:
The Football League: Champion
FA Cup: Winner
INFOS:
The Football League was founded in 1888. North End were one of the founder members and went on to make history. In the League's first season (1888-89), North End were inaugural league champions, achieving the feat without losing a match. On top of this, they completed the league and cup 'Double', winning the FA Cup without conceding a single goal, defeating Wolverhampton Wanderers 3-0 in the final. Preston were the first club to achieve the league and cup "Double" and they did so with a majority of their team being made up of "Scotch Professors" - as the professional Scottish players of the time were known.
1888–89 Preston North End FC season (Wikipedia)
HOME & AWAY KITS:
-