---
Name: Laurent Di Lorto

Nickname: "Bayard"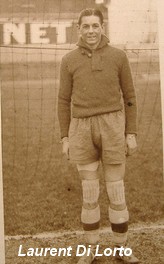 Country:
France
Clubs: Olympique de Marseille (1934-1936), FC Sochaux-Montbéliard (1936-1940)
Position: *

GK


Side: RF/BS
Age: 25-31 years (01/01/1909)

Height: 180 cm
Weight: 74 kg

Attack: 30
Defence: 86
Balance: 77
Stamina: 65
Top Speed: 69
Acceleration: 73
Response: 91
Agility: 83
Dribble Accuracy: 51
Dribble Speed: 55
Short Pass Accuracy: 54
Short Pass Speed: 57
Long Pass Accuracy: 60
Long Pass Speed: 62
Shot Accuracy: 43
Shot Power: 77
Shot Technique: 42
Free Kick Accuracy: 45
Curling: 47
Header: 46
Jump: 93
Technique: 54
Aggression: 58
Mentality: 76
Keeper Skills: 85
Team Work: 79

Injury Tolerance: B
Condition/Fitness: 7
Weak Foot Accuracy: 4
Weak Foot Frequency: 4
Consistency: 5
Growth Type: Late Peak


CARDS:


S12:

1-on-1 Keeper

SPECIAL ABILITIES: 1-on-1 Stopper

Attack / Defence Awareness Card: Defence Minded


INFO:

Laurent Di Lorto is former French keeper. He was good keeper despite the short stature, pretty slim and weak physically but had good reflexes and excellent jumping capacities resulting often in spectacular parades. He came as a young man to Olympique Marseille. In the first pro season in French football at all (1932/33) put him coach Bell instead of the veteran Charles Allé in games in Division 1 but only rarely,. Only Bells successor Vincent Dittrich Tues Lorto made in 1933 to first-choice goalkeeper. By 1936, graduated from the 81-point games in the box Olympique. In the league ran out 1933/34, a third place, just one point behind champions FC Sète. However, the team had even had in his hand, to get to catch up because of two games on the season the title, but both games were lost: 1:3 at already relegated CA Paris, and 2:4 at home against Excelsior AC Roubaix, Di Lorto for this last game locked. He also reached the cup final this season in which he conceded two goals by Lukács and Marseille had to bow down again Sète (final score 1:2). But only a year later he won the trophy with Olympique and remained at about 3-0 Stade Rennais UC without conceding a goal. In addition, he was there and even become a national player (see below) , his successor at Olympique, "Jaguar" Vasconcelos, was also the "Marseillaise Legend". In 1936 he moved to league rivals FC Sochaux, for whom he played two years in the following 55-point games (only for use from 1936 to 1938 are exact figures are known). DC In 1937 he was with this club runner, winning the French Cup, the final 2: 1. In 1939/40, after the outbreak of war and the German invasion, disbanded the team to literally foreign players came back to their homeland (Cazenave to Uruguay, Williams to the UK) or were interned (Jerusalem), many others went to the uniform. Sochaux could participate in the championship any more. Even the goalkeeper was a soldier and fought in the Vosges front. After a serious lung disease that he had caught it, had Laurent Di Lorto end his professional career as a 31-year-old already. Between February 1936 and June 1938 Di Lorto came in 11 A-international appearances for the French national team to use, including meetings in 1937 against Germany (0-4) and Switzerland (2-1) were. In December of this year, delivered from "Laurent-le-magnifique" a legendary to this day game, a "festival Di Lorto", against the reigning world champions Italy in which he the enemy attackers Piola, Meazza and Ferrari to despair brought and the Bleus him in this "game of his life," the 0-0 almost alone owed, donated after the final whistle him 40,000 spectators in the Parc des Princes stadium standing ovation. The following year he played both games of the FPS tricolore at the World Cup finals, where he had but three goals in the quarter-finals allow the Italians was then the much younger Julien Darui his successor in the national team. Di Lorto has coached the sport for a while Réunis Saint-Dié, before he settled in Montbeliard, where he opened a children's clothing store. In 1989 he died there at the age of 81.