Name: Jules Vandooren

Nickname: "Le Grand Jules"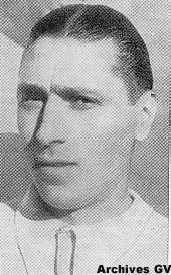 Country:
France
Club: Lille OSC
Position: *
CB
,
SB
Side: RF/RS
Age: 26-31 years (30/12/1908)
Height: 180 cm
Weight: 77 kg
Attack:
55
Defence:
86
Balance:
87
Stamina:
81
Top Speed:
87
Acceleration:
82
Response:
81
Agility:
75
Dribble Accuracy:
70
Dribble Speed:
71
Short Pass Accuracy:
72
Short Pass Speed:
67
Long Pass Accuracy:
71
Long Pass Speed:
73
Shot Accuracy:
61
Shot Power:
83
Shot Technique:
60
Free Kick Accuracy:
55
Curling:
58
Header:
82
Jump:
88
Technique:
70
Aggression:
57
Mentality:
81
Keeper Skills:
50
Team Work:
75
Injury Tolerance:
B
Condition/Fitness:
7
Weak Foot Accuracy:
4
Weak Foot Frequency:
4
Consistency:
6
Growth Type:
Standard
CARDS:
P02:
Deep Cover
S07:
Man Marking
S09:
Covering
SPECIAL ABILITIES:
Covering - Marking
Attack / Defence Awareness Card: Defence Minded
INFO:
Jules Vandooren is former French player who also competed in athletics. In fact he was good there, recording 176 cm in High Jump and run 100 meters in 11 seconds. In football he was right back, mainly of a british style. Technically not gifted but very strong and tough, it was extremly hard to overcome him. He rarely crossed the centre line, usually kicking the ball far from defence immediatelly when getting it. At the age of 18 he came to Olympique Lillois, where he secured fast a regular seat and had to be counted just six years later once the masters of his profession: with Lille, it was 1932/33 new to the established professional league, Division 1, French immediately champion and already a few weeks before the season ends for the first time called into the national team. In the following years Vandooren played with Lille always in the top half, in 1936 and was runner-up in 1939 in the final of the French Cup. After the occupation of France by the German Wehrmacht was part of the north of the country for "forbidden zone", which is also significant restrictions on the operation had the effect of sports. Therefore, moved to Red Star Vandooren Jules Paris, where he won in 1941 but only the unofficial title of master of the northern zone, and then as a player-coach of Stade de Reims, with whom he could repeat this success in 1942. That same year he played after a long interruption caused by war are also two international matches in 1943, he finished his playing career. Between February 1933 and March 1942 Jules Vandooren played 22 international matches for the Equipe Tricolore (20 in his time at Lille, Reims in two) and also contributed three times as captain. He was together with Etienne Mattler from Sochaux in the 1930s, one still in the Hexagon legendary defender pair that was called out at the world championships in 1934 and 1938 to 1934 Vandooren was suffering still from the effects of an injury, and in 1938 decided the selection committee of the Association for the competitors Hector Cazenave, so he stayed with two World Cup finals without use. After his first steps as a player-coach in Reims he served until 1948, the amateur club Arago sports Orleans, 1949 SM Caen, La Gantoise Ghent (Belgium) and from 1959 to 1961 his long-time club Lille Olympique, who was, however, has gone straight to the second division. He was engaged as coach of Senegal (1961-1963), with UA Sedan-Torcy (1963/64) and again in Orleans. More about Coach, there are contradictory statements in the sources. In the 1970s Jules Vandooren put to rest in Calais, where he was a few days after his 76th Birthday died.