Name: Jenő Kalmár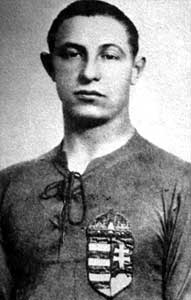 Country:
Hungary
Club: MTK Budapest (1928-1933), Excelsior Roubaix (1933-1936)
Position: *
CMF
,
CF
,
DMF
Side: RF/BS
Age: 22-26 years (21/03/1908)
Height: ???
Weight: ??
Attack:
83
Defence:
72
Balance:
79
Stamina:
82
Top Speed:
79
Acceleration:
81
Response:
81
Agility:
82
Dribble Accuracy:
84
Dribble Speed:
77
Short Pass Accuracy:
82
Short Pass Speed:
76
Long Pass Accuracy:
81
Long Pass Speed:
79
Shot Accuracy:
83
Shot Power:
89
Shot Technique:
80
Free Kick Accuracy:
74
Curling:
67
Header:
80
Jump:
82
Technique:
85
Aggression:
78
Mentality:
81
Goalkeeper Skills:
50
Team Work:
84
Injury Tolerance:
B
Condition/Fitness:
6
Weak Foot Accuracy:
5
Weak Foot frequency:
5
Consistency:
6
Growht Type:
Standard
CARDS:
P13
:
Long Ranger
S01
:
Reaction
S05
:
1-touch Play
SPECIAL ABILITIES:
Reaction - Middle Shooting - 1 Touch Pass
Attack/Defence Awareness Card
: Attack Minded
INFO:
Kalmar's career began in the late 1920s at the Budapest Hungaria, where the elegant and versatile player quickly gained a reputation. Usually, the technically and tactically superior Kalmár as center half and - despite not having towering height - set up as a center forward, but also at other positions was used. Were especially feared his precise shots from a distance. In 1929, the Blue-White their first league title obsolete after the introduction of professional football in Hungary and Kalmár with 19 goals was not only the most successful scorer in a forward line that also Ferenc Hirzer and György Molnár belonged, but was after the season and the Hungarian player of the year selected. Kalmar's career was interrupted by several serious injuries including a broken leg he sustained in the autumn of 1929. In 1932 he won a second title, as the FC in the Cup final Ferencvárosi was beaten 4-3 in the replay. In 1933 he left his home club, and took as well as a number of other Hungarian professional player an offer from the French Division 1, where he earned the Excelsior AC Roubaix his money. There he played in a team with Heinrich Hiltl and Célestin Delmer and was in his first season in the north of France to reach fifth place. After that things were not so much good and in the next two years the team was only in mid-table. During the season 1935/36 Kalmár left the club and moved to Division 2 for local rivals Racing Club Roubaix, which reached right away as runners move up to the top division. There, in the following year, the class will be held before Kalmár joined for his last year in France, the second division club Stade Reims. He then returned to Hungary, where he was active until 1944 as player-manager at Kistext, lower division of the company team of a textile company in Kispest. At his first national team in Kalmar came in October 1928 when it was used at a 1:5 defeat against Austria as the left half. In further consequence, he was usually set up as a center half or center forward and scored in September 1929 his first goal in a 1-1 against Czechoslovakia when he defeated Frantisek Plánička with a shot from 30 meters distance. After his broken leg in 1931, he returned back to the national team, where he belonged in the next two years to the regular cast. His 15th and last game he made for Hungary in October 1932, where he managed the 2:3 against Austria, his fourth goal. Through its activities abroad, he took no further consideration in the national team more. During his time in France was also in the Kalmar regional selection of northern France used.