Name: Ernest Vaast

Nickname: "Nénesse"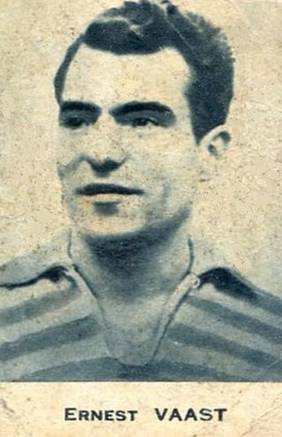 Country:
France
Club: Racing Club de Paris
Position: *
WF
,
SS
Side: LF/LS
Age: 23-27 years (28/10/1922)
Height: 178 cm
Weight: 74 kg
Attack:
85
Defence:
35
Balance:
77
Stamina:
79
Top Speed:
86
Acceleration:
84
Response:
77
Agility:
85
Dribble Accuracy:
86
Dribble Speed:
83
Short Pass Accuracy:
76
Short Pass Speed:
70
Long Pass Accuracy:
80
Long Pass Speed:
73
Shot Accuracy:
84
Shot Power:
85
Shot Technique:
87
Free Kick Accuracy:
73
Curling:
70
Header:
74
Jump:
79
Technique:
88
Aggression:
89
Mentality:
71
Keeper Skills:
50
Team Work:
75
Injury Tolerance:
C
Condition/Fitness:
6
Weak Foot Accuracy:
6
Weak Foot Frequency:
6
Consistency:
5
Growth Type:
Early Peak
CARDS:
P11:
Cut Back Pass
P12:
Incisive Run
S01:
Reaction
S05:
1-touch Play
S18:
Cross Over Turn
SPECIAL ABILITIES:
Dribbling - Side - Reaction - 1 touch Pass
Attack / Defence Awareness Card: Attack Minded
INFO:
One of the best French players of his generation. Ernest was left winger although he could play in the middle as well. Player with exceptional technique but also attacking intelligence which enabled him to score a lot of goals. He scored many of them from tight angles and whilst at full speed, had strong and precise shot, good dribbling and solid pace. He could send useful cross from the flank as well but he didn't show always his full potential. During the war and German occupation, he played for the FEC Levallois, in the season 1943/44, in France no club teams, but regional selections were fighting for the (later just as an unofficial force) "war championship". From the summer of 1944 he played for Racing Club de Paris, with whom he, on 6 May 1945, two days before the end of the war, won his first title: after a 3-0 over Lille Olympique SC was racing champions. Four weeks ago, Ernest Vaast was also the first appointed to the French national team (see below). In the championship of the capital club achieved in these years, mostly upper midfield ranks, but Vaast was placed twice in the top league scorers: 1946/47 he appeared there with 18 goals to rank 13 and 1947/48 were sufficient for him 16 goals for the 10th. For this he was with Racing in May 1949 in the French Cup final again and this time was - again, against Lille, Final 5-2 - 4-0 with his goal to also be counted on winning the Coupe de France at. Regarding the season 1949/50 we read occasionally the claim Vaast've been in this year's squad of Servette Geneva and be with this Swiss champion. This seems, however controversial, because in Servettes seasonal exhibit team cadres of 1948/49 to no mention of 1950/51 is [5], especially Vaast on the 14th May 1950 again with Racing Paris in the French Cup final was that was lost this time with 0-2 against Stade Reims. On the other hand, he appeared on a team photo of racing during this season does not occur. From 1951 to 1953 he played Stade Rennais at University Club, with which he could avoid relegation twice, and 1953/54 still one year in Red Star. Often plagued by muscle injuries, he ended with 31 years of his professional career. Between April 1945 and June 1949 denied Ernest Vaast 15 A-internationals with the Equipe Tricolore, where he scored 11 goals, including a threesome in 1947 in Lisbon against Portugal, and two each against Czechoslovakia (1946) and Belgium (1947). Even with the two surprising victories over the "football teacher" England (1945 2-2 at Wembley in 1946 2-1 in Colombes), he met once each, in addition. With 0.73 goals per game states he is to this day one of the most efficient scorer who ever wore the jersey of the Bleus. After his time as a professional footballer tried Ernest Vaast as player-coach in amateur camp, including in Bressuire, AS Cherbourg (1956-1959) and U.S. Saint-Georges-sur-Ancizes. Simultaneously, he completed the instructor training, according Chaumier but with such a weak conclusion that he "closed the doors of well-known clubs remained". From 1968 to 1970 he worked as a trainer at Rodez AF,. Other stations can not be determined. Ernest died in 2011.