Name: Héctor Puricelli Seña

Nickname: "Testina d'oro"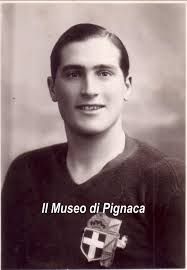 Country:
/
Uruguay/Italy
Clubs: Bologna FC 1909 (1938-1944), AC Milan (1944-1946)
Position: *
CF
Side: RF/BS
Age: 22-30 years (15/09/1916)
Height: 180 cm
Weight: 79 kg
Attack:
91
Defence:
32
Balance:
83
Stamina:
78
Top Speed:
82
Acceleration:
80
Response:
86
Agility:
77
Dribble Accuracy:
83
Dribble Speed:
75
Short Pass Accuracy:
74
Short Pass Speed:
69
Long Pass Accuracy:
70
Long Pass Speed:
68
Shot Accuracy:
87
Shot Power:
82
Shot Technique:
85
Free Kick Accuracy:
68
Curling:
69
Header:
96
Jump:
87
Technique:
82
Aggression:
90
Mentality:
77
Keeper Skills:
50
Team Work:
73
Injury Tolerance:
B
Condition/Fitness:
7
Weak Foot Accuracy:
5
Weak Foot Frequency:
5
Consistency:
6
Growth Type:
Standard LastingCARDS:
P
15 Goal Poacher
SPECIAL ABILITIES:
Positioning - Scoring - Lines
Attack / Defence Awareness Card:
Attack Minded
INFO:
Former Italian-Uruguayan striker with fantastic heading abilities, good ball control and dribbling. In fact he was League's top scorer in his first season with 24 goals from which 19!!! were headers. Arrived at Bologna in the thirties, he was soon nicknamed "golden head" for hiss excellent heading qualities, in 1939 and 1941 was the top scorer of the club and won 2 titles. Remarkable that, when he played in Uruguay, rarely scored with his head as he didn't have teammates who did the cross. But when he arrived at the Bologna discovered this specialty, aided by the fact that there were likes of Amedeo Biavati on the wing, which were able to kick the perfect cross. Passed to Milan, he played several years for the Rossoneri, ending his career at Legnano, where he played for two seasons in Serie B, in which came to the fore scoring many goals. Also played in a game with the national team. With five championships in Bologna scored 80 goals in 133 games, while in four seasons with AC Milan has scored 55 goals in 157 games. In two seasons at the Legnano scored 25 goals in 38 games. Closed his career as a player, he began to coach, guiding many Italian teams. Among his successes, please note the Scudetto with Milan in 1955, when he took over in Bela Guttman, double promotion from C to A obtained with Varese in just three years in the sixties and the various salvation obtained in Cagliari and in Vicenza, which led on three occasions between 1968 and 1975. He also coached Foggia, in Serie B in 1971-1972, then in Serie A in 1976-1977 and 1977-1978 and in 1979-1980 in Serie C, resulting in a return to Serie B team dauna.