Name: Francesco Zagatti

Nicknames: "Cecco", "Zigo Zago"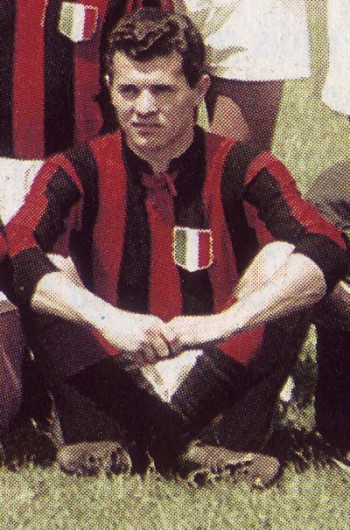 Country:
Italy
Club: AC Milan
Position: *
SB
,
DMF
,
CB
Side: LF/BS (mainly left side)
Age: 20-27 years (18/04/1932)
Height: 177 cm
Weight: 70 kg
Attack:
65
Defence:
77
Balance:
83
Stamina:
83
Top Speed:
85
Acceleration:
81
Response:
80
Agility:
82
Dribble Accuracy:
75
Dribble Speed:
77
Short Pass Accuracy:
75
Short Pass Speed:
72
Long Pass Accuracy:
76
Long Pass Speed:
74
Shot Accuracy:
65
Shot Power:
77
Shot Technique:
64
Free Kick Accuracy:
61
Curling:
63
Header:
78
Jump:
82
Technique:
75
Aggression:
67
Mentality:
83
Keeper Skills:
50
Team Work:
80
Injury Tolerance:
B
Condition/Fitness:
6
Weak Foot Accuracy:
5
Weak Foot Frequency:
5
Consistency:
6
Growth Type:
Standard
CARDS:
S09:
Covering
SPECIAL ABILITIES:
Covering
Attack / Defence Awareness Card: Balanced
INFO:
From all Milan defenders throughout the 50's Zagatti was the most dynamic, offensive and the fastest of them. Very combative and good in blocking the rivals, also solid in helping at offensive moves with his agility and pace, although very rare scored. Had good strength, sometimes looking too rough and sullen. agatti started his career at A.C. Milan. He played in their youth team, before making his senior debut in a Serie A game against S.S. Lazio, on 1 June 1952. He went on spending his whole career with the Rossoneri, winning four Scudetti, one European Cup and one Latin Cup. Also reached the final of the 1957-1958 Champions League against Real Madrid, but not diputò. He was also captain of AC Milan at the beginning of the 1961-1962 season, before the beam passes in Cesare Maldini. He retired from playing football in 1963 after a season in which sece in the field only in the first game of the Rossoneri, the Cup of Italy Parma-Milan 0-1 September 9, 1962. He spent his entire career with the Rossoneri played a total of 252 games, including 214 in Serie A, where he released two goals, one on a penalty kick in the league against Fioentina and one in the 1962 Friendship Cup against Nice. After retiring he joined the technical staff of the youth of Milan and was an observer and talent scout for the Rossoneri. Having coached for five seasons, from 1966 to 1970, the Spring of Milan, gaining a second place in the Viareggio Tournament in 1970, was assistant to Nereo Rocco during the 1976-1977 season. In March of 1982 Zagatti flanked Italo Galbiati who was just brought to replace Luigi Radice at the bench of Rossoneri for two league games against Inter and Catanzaro, both lost. Following that he continued to collaborate with Milan as an observer. He died on March 7, 2009 at the age of 76 years.