Name:
Miroslav Gajdůšek
Nickname: "Gajda"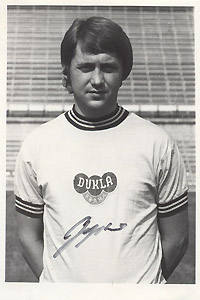 Country:
Czech Republic
Club: FK Dukla Praha
Position: *
WF
, (
CF
as optional)
Side: LF/LS
Age: 26-30 years (20/09/1951)
Height: 177 cm (???)
Weight: 69 kg (???)
Attack:
81
Defence: 47
Balance:
77
Stamina:
80
Top Speed:
84
Acceleration:
83
Response:
75
Agility:
83
Dribble Accuracy:
84
Dribble Speed:
81
Short Pass Accuracy:
80
Short Pass Speed:
77
Long Pass Accuracy:
82
Long Pass Speed:
84
Shot Accuracy:
76
Shot Power:
87
Shot Technique:
78
Free Kick Accuracy:
77
Curling:
83
Header: 70
Jump: 73
Technique:
83
Aggression:
82
Mentality:
76
Goalkeeper Skills: 50
Team Work:
79
Injury Tolerance:
B
Condition/Fitness:
6
Weak Foot Accuracy: 4
Weak Foot Frequency: 3
Growth type: Early Peak
CARDS:
P11:
Cut Back Pass
P13:
Long Ranger
SPECIAL ABILITIES:
Middle Shooting
Attack/Defence Awareness Card:
Attack Minded
INFO:
Former Czech winger. Miroslav played mainly as left winger, remembered for his powerful shot but he wasn't too efficient striker, especially for someone with good shot. He was decent set piece taker, good crosser with solid pace and footwork. Gajdusek, called "Gajda", was born on September 20, 1951 and his football beginnings are connected with sparks Otrokovice. After talking with TJ Gottwaldov (now Zlín) filed a transfer to the neighboring club, but in the meantime in 1970 he enlisted in the Juliska, to serve out the two years of compulsory "green". For two years, finally was eleven years when Gajdusek wore yellow and red jersey and shot a magnificent goal. For Dukla netted them a total of 71. Gajdusek significantly participated in Dukla two championship titles in 1977 and 1979. On May 6, 1981 missing in the team Dukla Prague, the Prague Summer "escorted" the Czechoslovak Cup final Dukla Banská Bystrica with the result 4:1. Miroslav tried three times to go from Dukla to Sparta. But a signed commitment to transfer his army foiled every time - and still Gajdusek had disciplinary punishment. Miroslav left the club in 1981. But not in Sparta. He went to Vitkovice. For the local team when Major League, played more in three consecutive years and scored six more league goals. With Dukla Gajdůšek was twice Czechoslovak champion and one time cup winners. He played 355 games for Dukla, in which he scored 77 hits. From 1981 to 1984 he played for TJ Vitkovice and then ended his active career. Between 1971 and 1980 Gajdůšek played 48 times for the Czechoslovak national team, scoring four goals. He took part in the European Championship 1980 in the Czechoslovak team won the bronze medal.