Name: František Štambachr or Štambacher

Nickname: "Štambi"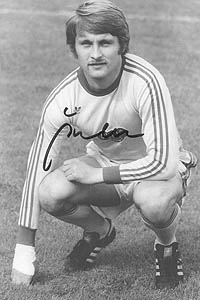 Country:
Czech Republic
Club: FK Dukla Praha
Position: *
SMF
,
SB
,
DMF
,
CMF
,
AMF
Side: LF/LS
Age: 24-30 years (13/02/1953)
Height: 176 cm
Weight: 73 kg
Attack:
77
Defence: 60
Balance:
75
Stamina:
83
Top Speed:
85
Acceleration:
86
Response:
75
Agility:
85
Dribble Accuracy:
84
Dribble Speed:
85
Short Pass Accuracy:
81
Short Pass Speed:
75
Long Pass Accuracy:
83
Long Pass Speed:
82
Shot Accuracy:
75
Shot Power:
84
Shot Technique:
75
Free Kick Accuracy: 71
Curling:
83
Header: 69
Jump: 73
Technique:
83
Aggression:
81
Mentality:
78
Goalkeeper Skills: 50
Team Work:
81
Injury Tolerance:
B
Condition/Fitness:
6
Weak Foot Accuracy:
6
Weak Foot Frequency:
6
Growth type: Standard
CARDS:
P01:
Overlapping Run
P07:
Mazing Run
P09:
Early Cross
SPECIAL ABILITIES:
Side - Dribbling
Attack/Defence Awareness Card:
Attack Minded
INFO:
Legendary Dukla Praha allrounder. Štambi was left midfielder and left back mainly, but he was used on all midfield positions and would often switch on the right side during the game. He had good pace and dribbling, could score from distance but was mainly known for his crosses with lot of effect. Technically gifted player, agile and mobile but lacked consistency. František Štambacher played in his youth for Sokol Čebín and KPS Brno. In 1972, he joined Dukla Prague (today Marila Pribram), where he stayed for 12 years faithful. For Dukla he completed 292 first division matches in which he scored 31 goals and 13 UEFA Cup games where he met 3 times. 1977, 1979 and 1982, he was Czechoslovakian champion, 1981 and 1983 Cup Winners' Cup. He played at the end of his career in Greece for AEK Athens (7/1984-12/1984) and Apollon Athens (12/1984-6/1985). František Štambacher joined the Dukla in 1972 at the battle of třetiligové KPS Brno Hradec Králové, along with Oldrich Rott as a striker. Coach Vejvoda him but designate another role - the midfielder. And it was the right decision showed "Štambi" in later years on the lawn countless times. "Štambacher can swell and ideally send a cross from the left," wrote about him in the press. For Czechoslovakia Štambacher completed 31 games in which he scored 5 goals. At the European Championships in 1976, he did not play, but was allowed to celebrate recently as European champion. To the next European Championship in 1980, he contributed with two goals to Czhechoslovakia's 3rd place. In the same year he was a member of the Olympic team of his country at the Olympic Games in Moscow, which was crowned with the gold medal. In the final, his beautiful presentation helped the just substitute players Jindřich Svoboda for 1-0 Final against the GDR. Two years later he took part in the 1982 World Cup and received a commitment, his team but did not make it through the group stage.