Name: Ilian Ivanov Kiriakov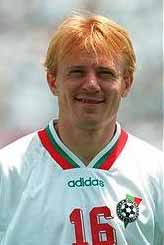 Country:
Bulgaria
Clubs: FC Etar Veliko Tarnovo (1989-1991), Real Club Deportivo de La Coruña (1991-1993), CP Mérida (1993-1994)
Position: *
SB
,
WB
,
DMF
Side: RF/BS
Age: 22-27 years (04/08/1967)
Height: 165 cm
Weight: 73 kg
Attack: 73
Defence: 70
Balance:
77
Stamina:
87
Top Speed:
83
Acceleration:
83
Response:
78
Agility:
82
Dribble Accuracy: 74
Dribble Speed:
79
Short Pass Accuracy:
76
Short Pass Speed:
75
Long Pass Accuracy: 74
Long Pass Speed:
75
Shot Accuracy: 70
Shot Power:
83
Shot Technique: 72
Free Kick Accuracy: 66
Curling: 73
Header:
77
Jump:
84
Technique:
76
Aggression:
80
Mentality:
83
Keeper Skills: 50
Team Work:
80
Injury Tolerance:
B
Condition/Fitness:
6
Weak Foot Accuracy:
6
Weak Foot Frequency: 5
Growth Type: Standard Lasting
CARDS:
P06:
Speed Merchant
S09:
Covering
SPECIAL ABILITIES:
Covering
Attack / Defence Awareness Card: Balanced
INFO:
Ilian Kiriakov is a former Bulgarian football defender. Born on August 4, 1967 in the village Lesicheri, Veliko Tarnovo. He played for the Ether, CSKA Sofia, Akademik (Svishtov) Chumerna Lesicheri, Rosica (Polikraishte), Spain Deportivo La Coruna and Lerida, Anorthosis (Cyprus) and Scottish Aberdeen Eardrionians Rovers and Wright. Since the fall of 2006 playing for Yantra 2002 (Draganovo). In group "A" has 168 matches and 15 goals. Champion of Bulgaria, winner of the Cup of BFU and semifinalist for the national cup in 1991 with the Ether, a bronze medalist in 1989 and 1990, third place for the national cup in 1986 with La Coruna is a bronze medalist in 1993 Aberdeen was bronze medalist in 1996 and a finalist for the Scottish Cup in 2000 for Bulgaria's national team debut on January 21, 1988 against Qatar (2:3 Round), has 57 games. Participate SP-1994 in the U.S., where he became the bronze medalist (played in 6 games) and EP-1996 in England (in a match). Energetic and daring player who commited exclusively to work. President of Ether 1924 from 2003. During eight years, Kiriakov played 53 times for Bulgaria, scoring five goals. He appeared in six matches in the 1994 FIFA World Cup, as the national side finished in fourth position (four complete, all in the knockout stages), and was also picked for the squad at UEFA Euro 1996, where he played in group stage 1–1 draw against Spain.