Stats by Jean Marc & Plava Čigra
Name: Mirsad Hibić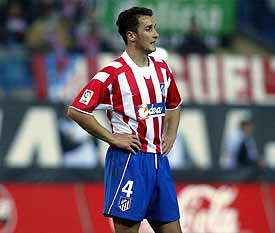 Country:
Bosnia and Hercegovina
Clubs: Hajduk Split (1994-1996), Sevilla FC (1996-2000), Atlético Madrid (2000-2002)
Position: *
CB
Side: LF/BS
Age: 21-29 years (11/10/1973)
Height: 186 cm
Weight: 85 kg
Attack: 64
Defence:
86
Balance:
88
Stamina:
82
Top Speed:
78
Acceleration:
75
Response:
84
Agility: 73
Dribble Accuracy: 74
Dribble Speed: 71
Short Pass Accuracy:
75
Short Pass Speed: 73
Long Pass Accuracy: 73
Long Pass Speed: 74
Shot Accuracy: 65
Shot Power:
81
Shot Technique: 66
Free Kick Accuracy: 62
Curling: 65
Header:
84
Jump:
85
Technique:
75
Aggression: 66
Mentality:
82
Keeper Skills: 50
Team Work:
80
Injury Tolerance:
B
Condition/Fitness: 5
Weak Foot Accuracy: 5
Weak Foot Frequency: 5
Growth Type: Standard
CARDS:
S07:
Man Marking
S08:
Slide Tackle
SPECIAL ABILITIES:
Marking - Sliding
Attack / Defence Awarenees Card: Defence Minded
INFO:
Mirsad Hibić is former Bosnian defender and one of the most underrated players in world in the last 20 years. Hibić was elegant and reliable centre back with good technique and ability to carry the ball out from defence safely. Very strong in aerial battles as well as in the ground ones and with great sense of positioning and anticipating Hibić was a true defence leader in all teams he played. He also captained Sevilla, Atletico and Bosnian NT, and was very respected from fans, coaches and his teammates. Mirsad was born in Zenica and started to play in local club Čelik, as all the other kids in Zenica. He marscialled through all youth systems in Čelik and gained a place in senior team as a very young player. In his last season for Čelik 1991/1992 Hibić, as the 18 year old, played 18 matches and 17 as a starter. He wasn't neither red or yellow carded in all those matches what's brillant for one 18 year old defender. Than in 1992 the damn war began and Hibić makes a move to Hajduk Split thanks to local coach Sead Begicevic. Hibić spent 4 great seasons in Split with winning few league titles and cups and playing in the quarterfinal of Champions League in 1995 against mighty (at the time) Ajax. Hibić was also named as the best player of Croatian league. Than in 1996 Hibić went on to play for Sevilla in which he remained for the next 4 seasons. Hibić also made his debut for NT in 1996. In 2000 Hibić moved to play for Atletico Madrid and stayed there till 2004. Than Mirsad surprisingly announced his retirement from active football despite the offers from some great European clubs. Hibić said he was disappointed with Bosnia's unsuccessful campaign in qualifications for EURO 2004 and had some health problems, as well as being nostalgic for his home.