Name: Ernesto Castano

Nickname: "Tino"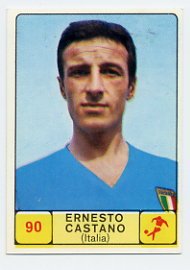 Country:
Italy
Club: Juventus F.C.
Position: *
CWP
,
SB
,
CB
Side: RF/RS
Age: 23-29 years (02/05/1939)
Height: 180 cm
Weight: 77 kg
Attack: 58
Defence:
87
Balance:
83
Stamina:
80
Top Speed:
80
Acceleration:
78
Response:
85
Agility:
76
Dribble Accuracy:
77
Dribble Speed:
75
Short Pass Accuracy:
80
Short Pass Speed:
76
Long Pass Accuracy:
83
Long Pass Speed:
79
Shot Accuracy: 62
Shot Power:
83
Shot Technique: 64
Free Kick Accuracy: 61
Curling: 65
Header:
83
Jump:
88
Technique:
79
Aggression: 58
Mentality:
81
Keeper Skills: 50
Team Work:
83
Injury Tolerance: C
Condition/Fitness:
7
Weak Foot Accuracy: 5
Weak Foot Frequency: 5
Growth Type: Standard
CARDS:
P08:
Pinpoint Pass
S07:
Man Marking
S09:
Covering
S10:
DF Leader
SPECIAL ABILITIES:
Marking - Covering - D Line Control
Attack / Defence Awareness Card: Defence Minded
INFO:
A player of unique will who refused to quit the game despite doctors insisted in him to stop playing, but he came back always. First a side back than a libero, very good defender with solid speed, great long range passing, very high leap, good anticipation and tactical awareness. Raised in Balsamese, passed in 1956 at Legnano in Serie B with which the owner, despite having played just 17 years. The following year he landed at Trieste, always among the cadets, and in 1958 arrived at Juventus. He started his career in Serie A on November 22 of that year against Bari, just twenty years, as the Juventus team had just won his tenth title. While playing from time to time, was part of the team that won league titles in 1960 and 1961, and Cup in 1959 and 1960. Also among his successes there are also the Italian Cup in 1965 and the 1967 championship, won the final day of Helenio Herrera's Inter. She closed her career at just 32 years in 1971 in Vicenza Lanerossi. Although the owner had become fixed at Juventus in 1962, also arrived in the national, which took the field the first time November 29, 1959 in Florence against Hungary. With the national team, despite playing only 5 games (3 more with the national B) participated in the victorious European Football Championship of 1968, dropping to the field in the quarter, the famous semi-final victory against the USSR and the draw in the first final against Yugoslavia.