Royal Sporting Club Anderlecht All Stars
GOALKEEPERS:
Henri MEERT
Jacky MUNARON
DEFENDERS:
Laurent VERBIEST
Georges HEYLENS
Gilbert VAN BINST
Hugo BROOS
Luka PERUZOVIĆ
Morten OLSEN
Henrik ANDERSEN
Georges GRÜN
MIDFIELDERS:
Ludo COECK
Armand JURION
Wilfried PUIS
François VAN DER ELST
Arie HAAN
Franky VERCAUTEREN
Pierre HANON
Enzo SCIFO
ATTACKERS:
Joseph MERMANS
Paul VAN HIMST
Rob RENSENBRINK
Erwin VANDENBERGH
Luc NILIS
********************************************
RESERVES:
GOALKEEPERS:
Jean CAUDRON

Jean TRAPPENIERS

Filip DE WILDE




DEFENDERS:




Jean CORNELIS

Michel DE GROOTE

Wim HOFKENS

Stéphane DEMOL
Adri VAN TIGGELEN
Jean DOCKX

Graeme RUTJES

Philippe ALBERT
Michel DE WOLF
Bertrand CRASSON




MIDFIELDERS:




Danny BOFFIN
Jan VERHEYEN

Per FRIMANN

Juan LOZANO
Charly MUSONDA

Marc DEGRYSE
Walter BASEGGIO
Pär ZETTERBERG

Bruno VERSAVEL

Bart GOOR

Martin LIPPENS


ATTACKERS:


Ferdinand ADAMS

Johnny BOSMAN

Johan DEVRINDT

Nenad JESTROVIĆ

Kenneth BRYLLE

Hippolyte VAN DEN BOSCH

Jan MULDER
Jacques STOCKMAN

Arnór GUðJOHNSEN

Michel VANVARENBERGH
THE BEST EVER XI (by gurkenjoe93)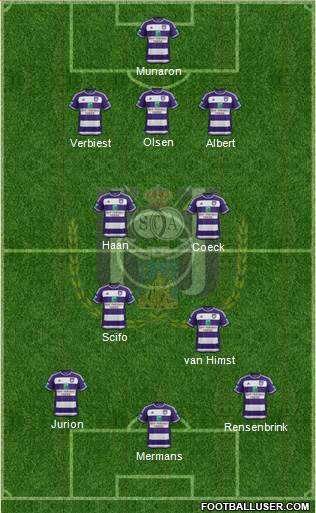 GK
MUNARON
CB
VERBIEST
SWP
OLSEN
CB
ALBERT
CMF
HAAN
CMF
COECK
AMF
SCIFO
AMF
/
SS
VAN HIMST ©
RWF
JURION
LWF
RENSENBRINK
CF
MERMANS
Captain: Paul van Himst | Rob Rensenbrink | Joseph Mermans
Short Free Kick: Enzo Scifo | Arie Haan | Rob Rensenbrink
Long Free Kick: Arie Haan | Enzo Scifo | Joseph Jurion
Left Corner: Enzo Scifo | Joseph Jurion
Right Corner: Enzo Scifo | Joseph Jurion
Penalty: Rob Rensenbrink | Enzo Scifo | Paul van Himst
ADDITIONAL IMAGES AND INFO:
Formed: 1908
Nicknames: Paars-wit (Purple and Whites, Dutch), Les Mauves et Blancs (Purple and Whites, French)
UEFA club competition honours (runners-up in brackets)
• UEFA Cup Winners' Cup: 1976, 1978; (1977), (1990)
• UEFA Cup: 1983; (1984)
• UEFA Super Cup: 1976, 1978
Domestic honours (most recent triumph in brackets)
• League title: 30 (2010)
• Belgian Cup: 9 (2008)
History
• Belgium's most successful club were formed as Sporting Club Anderlechtois in the municipality of Anderlecht, part of Brussels. The side started competing at national level in 1913, reaching the top flight − the Division d'Honneur − eight years later. Successive relegations and promotions followed but they have been in Belgium's highest division since 1935.
• By then they were RSC Anderlecht, having marked their 25th anniversary by adding the prefix Royal. The club won their first title in 1947 and swiftly became a dominant force, claiming three successive championships from 1949 to 1951, repeating the feat between 1954 and 1956. The latter four came under English coach Bill Gormlie, who added another in 1959.
• Corsican boss Pierre Sinibaldi enjoyed more success in the 1960s, winning five straight titles between 1964 and 1968. With the man who would be named Belgium's player of the century, Paul Van Himst, as captain, Anderlecht also made strides in Europe. They reached the Inter-Cities Fairs Cup final in 1970, losing 4-3 on aggregate to Arsenal FC.
• The late 1970s brought another golden era when, under Constant Vanden Stock's chairmanship, Anderlecht featured in three successive UEFA Cup Winners' Cup finals between 1976 and 1978. They beat West Ham United FC 4-2, lost 2-0 to Hamburger SV, then overwhelmed FK Austria Wien 4-0.
• With Van Himst now coach, further success followed in 1983 when Anderlecht defeated SL Benfica 2-1 on aggregate in the UEFA Cup showpiece, though they lost to Tottenham Hotspur FC on penalties in the final 12 months later. More misery followed in the 1990 UEFA Cup Winners' Cup final versus UC Sampdoria, but Anderlecht remained dominant at home, extending their number of Belgian titles to a record 30 in 2010.
Club Records
Most appearances: Paul Van Himst (566 games)
Most goals: Jef Mermans (369 goals)
Record victory: Anderlecht 16-0 RA Marchienne (Belgian Cup, 6 October 1965)
Record defeat: Manchester United FC 10-0 Anderlecht (European Champion Clubs' Cup, 26 September 1956)
*
Biggest win in UEFA competition:
14/09/1966, Haka 1-10 Anderlecht, Valkeakoski
*
Biggest defeat in UEFA competition:
26/09/1956, Man. United 10-0 Anderlecht, Manchester
* Appearances in UEFA Champions League: 29
* Appearances in UEFA Cup Winners' Cup: 7
* Appearances in UEFA Super Cup: 2
* Appearances in UEFA Europa League: 16
*
Player with most UEFA appearances: 80
Filip de Wilde (Belgium)
*
Top scorers in UEFA club competitions: 33
Rob Rensenbrink (Netherlands)