Name:
Martin Raymond Keown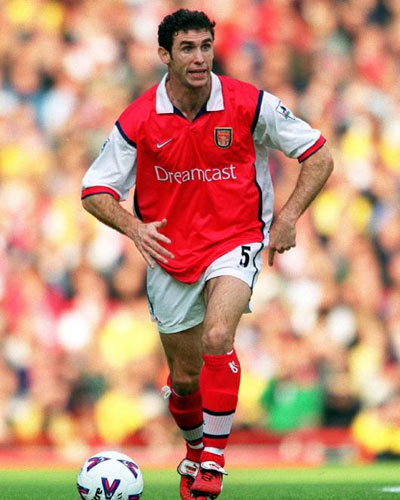 Country:
England
Club:
Arsenal F.C.
Position: *
CB
, (optional
DMF
)
Side: RF/BS
Age: 27-33 years (24/07/1966)
Height: 185 cm
Weight: 78 kg
Attack:
62
Defence:
88
Balance:
87
Stamina:
83
Top Speed:
77
Acceleration:
79
Response:
85
Agility:
75
Dribble Accuracy:
70
Dribble Speed:
72
Short Pass Accuracy:
74
Short Pass Speed:
76
Long Pass Accuracy:
73
Long Pass Speed:
76
Shot Accuracy:
61
Shot Power:
82
Shot Technique:
62
Free Kick Accuracy:
58
Curling:
64
Header:
86
Jump:
84
Technique:
71
Aggression:
65
Mentality:
86
Goalkeeper Skills:
50
Team Work:
78
Injury Tolerance:
B
Condition:
7
Weak Foot Accuracy:
5
Weak Foot Frequency:
5
Consistency:
6
Growth type:
Standard/LastingCARDS:

S

07
- Man Marking
S

09
- Covering
SPECIAL ABILITIES:
Marking - Covering
Attack/Defence Awareness Card:
Defence Minded
INFO:
Keown was a centre back who spent the majority of his career at Arsenal. His career started with the "Gunners" in 1984. After the first season he didn't convince much so he was loaned to Brighton & Hove Albion in 1985 and sold to Aston Villa the following season. He played for Aston Villa over 100 matches and scored 3 goals in three seasons. He transferred to Everton in 1989 and here he played around 100 games in four seasons. He eventually came back to Arsenal in 1993 as a better defender. Keown here formed with Tony Adams an almost impenetrable defence. After 449 matches and 8 goals in eleven seasons he left Arsenal and played for Leicester City and Reading before retiring in 2005. The defender also capped for England 43 times and scored twice.
A fighting and indomitable player, Keown was one of the toughest and most uncompromising centre backs in the English top division during the 1990s. He had amazing pace and ferocious tackling, good marking and covering ability, combined with aggressiveness, meanness and strength. Thanks to all these qualities he could efficiently target and stop the opponent strikers from behind or anticipate them quickly. Moreover he had high elevation and was a good header, he was good with both feet and could deliver dangerous passes from the back, he was very able also in a defensive midfielder position, where he was occasionally used, due to his anchoring ability as well as his good reading of the game.
https://youtu.be/V0o1GnHxQW4
Short video about Adams and Keown